As live music begins to make a cautious comeback, Matthew Bain, a freelance violinist with the London Philharmonic and Philharmonia amongst other ensembles, shares his experience of returning to orchestral playing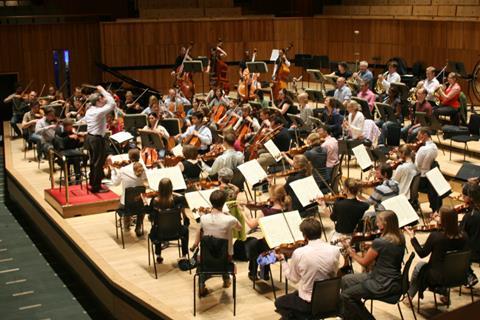 Fulham Symphony Orchestra, one of the finest and oldest amateur bands in London, reunited on Monday evening for their first rehearsal in six months. I led the rehearsal as a deputy. A number of amateur orchestras are now reforming together, safely. Here's how this one did it.
Since restrictions were relaxed in July, amateur choirs and orchestras have grappled with constantly changing rules and guidelines requiring Mensa membership to decipher. It took a vast amount of time and effort for orchestra chair Sharon Robinson and committee to make this rehearsal happen – from the risk assessment longer than War and Peace, to logistical planning at the venue, to the sheer volume of e-mail admin. As co-director of a recently restarted community choir, I know exactly how much work is needed – not to mention a big dollop of courage and determination in the face of growing fear of rising infections in London.
Read: 'That pre-performance adrenaline rush made me feel alive again' – Guy Johnston
Read: What does it feel like to give an online chamber concert?
Read: How to put on a live concert in the time of Covid-19
Read: Lawrence Power: life lessons from lockdown
To accommodate social distancing, we were lucky to have the grand, spacious interiors of St Paul's Church Hammersmith for our venue. I somehow thought that the precisely positioned, spaced-out seating we were warned about meant we'd be dotted around the church in some bizarre formation like an avant-garde performance art piece. Instead it felt remarkably like a normal rehearsal, except with single-desk strings. Double wind, trumpets and horns were seated, spaced out, behind us. Numbers were certainly down on FSO's usual turnout, with an average of 5 string players per section. For now, meaty Romantic symphonies were out, and classical chamber orchestra repertoire was in: Mozart's Haffner Symphony and Mendelsohn's Hebrides Overture were on tonight's menu.
Everyone dutifully kept their distance and wore masks until seated. Silence descended on the room. Conductor Marc Dooley looked overwhelmed by the joy he felt at simply saying welcome to everyone again. 'Let's hear the sound we've all been waiting so long for…' The oboe A rang like a triumphant bell, marking an end to the six-month ban on live orchestral sound for almost all of us. As the baton came down, it was moving to see Marc and other players close their eyes for a few seconds and let the glorious noise just wash over them.
For those used to three-hour rehearsals, the 75-minute session was a concentrated, high-intensity burst of rhythm and musical light. No pacing was needed – everyone played on the edge of their seats, lapping up every moment. The ultra-echoey boom of an acoustic like St Paul's brings its own challenges at the best of times; ears, eyes and brains unaccustomed to the lightning-speed reactions required in orchestra took a little while, understandably, to acclimatise (including my own). Playing without a desk partner doesn't help – it's an unhappy quirk we'll just have to get used to. I expected to feel lonelier and more disconnected from those around me, but the intimate chamber orchestra setup, even distanced, fostered a good deal of connection. An electric, positive energy coursed around the group as we rattled through the Haffner. It was moving to see a common expression of pure, quiet joy on so many faces.
After a quick play-through of the Hebrides, it was over, all too quickly. Marc thanked us all warmly and signed off. 'I wasn't sure what to expect tonight…but I am so pleased that a great orchestra turned up.'
Read: 10 ways to motivate yourself to practise during lockdown
Read: Running an educational chamber music programme remotely
Read: How are string soloists coping with the coronavirus lockdown?
Deprived of a community lifeline, not to mention a source of therapy, social connection and artistic fulfilment, it's been an immensely difficult year for amateur musicians. The threat of near-total destruction of the UK's musical heritage hangs heavy – a heritage that has been forgotten, side-lined and shoved to the very bottom of society's priority list. But on Monday, I was moved to see so many people turn up and exercise their freedom to do what that they love doing, safely. It felt like a quiet but significant act of freedom and resistance to the status quo.
If socially-distanced orchestras are here to stay (at least for now), then Monday gave me hope, because orchestras like FSO, tenacious, adaptable and creative, will make it work.
But I still can't figure out a solution to the mass page-turn problem.