The cellist and composer reflect on their festival's third edition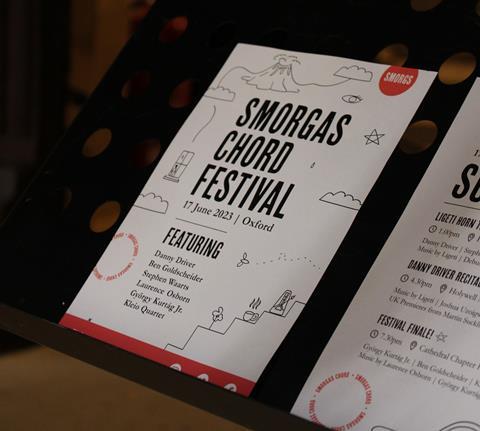 Discover more Featured Stories like this in The Strad Playing Hub
Before their 17 June festival, Smorgaschord festival directors Eliza Millett and Sebastian Black told The Strad what they were most looking forward to at this year's Ligeti-themed edition. Now they reveal how the event went, whether it fulfilled their expectations, and their future plans.
How do you feel the festival went this year, did it live up to your expectations?
Black: Really well! It was wonderful fun, we had a good audience and everyone seemed to have a good time!
Millett: Absolutely! In fact, I think we surprised ourselves with how well it went and are so glad we were able to really get our programming voice out there.
Do you feel you fulfilled the aims you had for the festival?
Millett: This year I think we fully engendered our ethos of embracing the short ashnd sweet – a one-day festival that captured the audience's imaginations and hearts. Although our audiences could always be fuller, it seemed that those who attended all three events were engaged with the artists and programmes alike. It was so heartening to see everyone really loving Ligeti and having a fuller picture of the man and all his disparate strands of inspirations by the end of the day.
Black: Our aim is always to be better so maybe fulfilling aims is not possible! We were pleased with the programme we presented, and our audiences were good, but we really want to break down the misconception that contemporary music is only for a select few—so we'd always love for more people to come!
What unforeseen issues arose and how did you go about dealing with them?
Black: The programmes nearly didn't get printed… but all was OK in the end!
Millett: Yes, the printing saga was quickly resolved, but we were so lucky to have many friends and Smorgaschord fans on the ground in Oxford who could help out!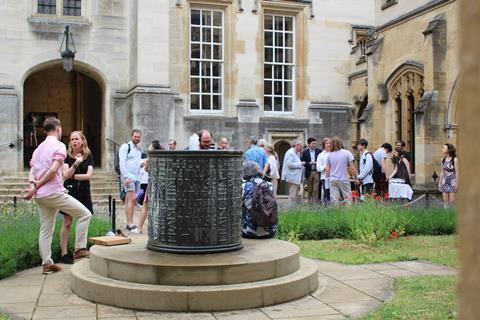 How was this edition unique compared to your others?
Millett: Returning to our inaugural festival model from 2021 of holding events over one day rather than multiple days made for an incredibly concise day. But really, having György Ligeti as our centrepiece around which to construct the programme concepts was the most unique thing about this year. And it felt when speaking to audience members, some of which had never heard of him, that we did our job of getting everyone on board!
Black: This was the first time we've focused on a specific theme, which this year was Ligeti and the music that kind of surrounds him. This was very fun and interesting, and that kind of programming is something we might explore—in a different way—again in the future. It was special also, I found, to have lots of really nice composers come to the festival; Laurence Osborn, Martin Suckling and Deidre McKay all came to hear their pieces. Composer fun is the best fun!
What was the most touching and memorable part of the festival this year?
Black: It was such a very touching day, full of wonderful moments. It's so, so special to bring a new piece into the world, and so the premiere of Laurence's new piece with horn player Ben Goldscheider was something I am very proud of. But of course working with Kurtág and his son was a life-changing experience, and one we'll never forget.
Millett: It was all hugely memorable, and there were so many excellent performances to be very proud of. Personally, the most touching element was performing alongside György Kurtág Jr in Zwiegespräch for string quartet and electronics. Kurtág's exquisite modes of communication and artistry in performance made for a very special time with my quartet [Kleio Quartet]. It was also particularly historic performing a work that we had spent June working on, both in Budapest and London with György Kurtág Sr and Jr (both living legends), and having this experience culminate in performance at my festival will be a long-lasting memory.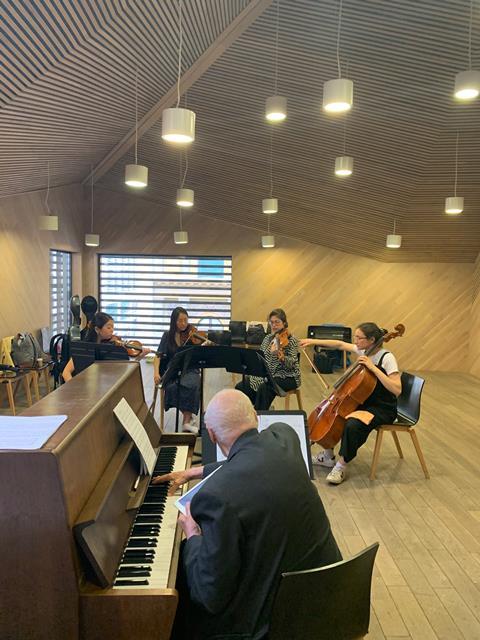 What do you feel you learnt most from this year's experience?
Millett: Above all, I think we learnt that we are able to actualise all our dream programmes, and that the bolder and more daring we are, the closer we get to the essence of Smorgaschord.
Black: To keep on trying!
Do you feel you have grown from the experience and are even more comfortable with the process of running a festival now?
Black: Certainly, but perhaps if we feel too comfortable then we aren't trying hard enough! What is extremely important is that logistically the festival runs extremely smoothly, so that artists and audience members can feel very, very happy and relaxed. This helps the event to have a nice, warm and positive vibe. But I think in terms of curation we should never let ourselves feel too comfortable: we should always try to keep pushing, pushing, pushing — with the vague hope that one day we'll create something kind of new!
What are you most looking forward to for next year's festival?
Black: More tasty food than this year!
Millett: Every year there is definitely some subconscious growth that happens in us. 'Comfortable' may be somewhat of a stretch at this early point, but I think we are learning that we need to expand our team for extra comfort! If you are interested in getting involved at Smorgaschord Festival in arts administration, please email smorgaschordfestival@gmail.com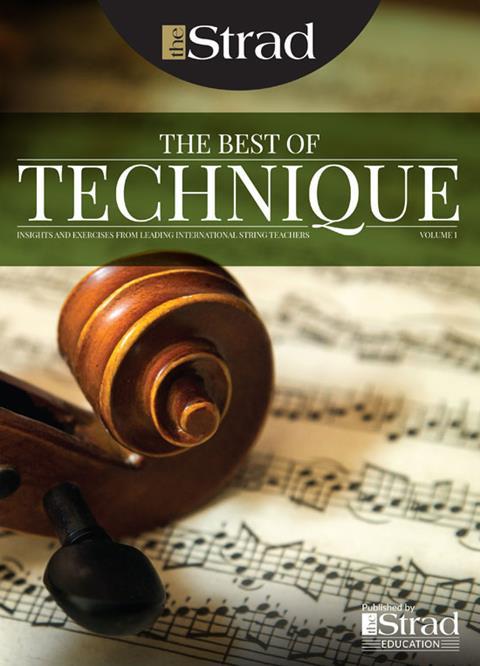 In The Best of Technique you'll discover the top playing tips of the world's leading string players and teachers. It's packed full of exercises for students, plus examples from the standard repertoire to show you how to integrate the technique into your playing.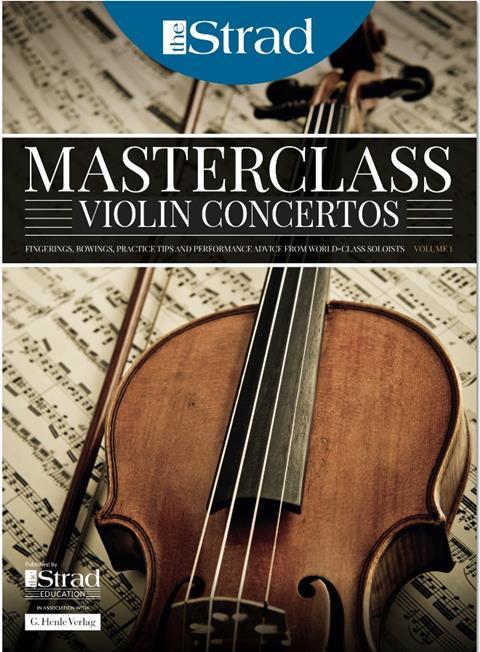 The Strad's Masterclass series brings together the finest string players with some of the greatest string works ever written. Always one of our most popular sections, Masterclass has been an invaluable aid to aspiring soloists, chamber musicians and string teachers since the 1990s.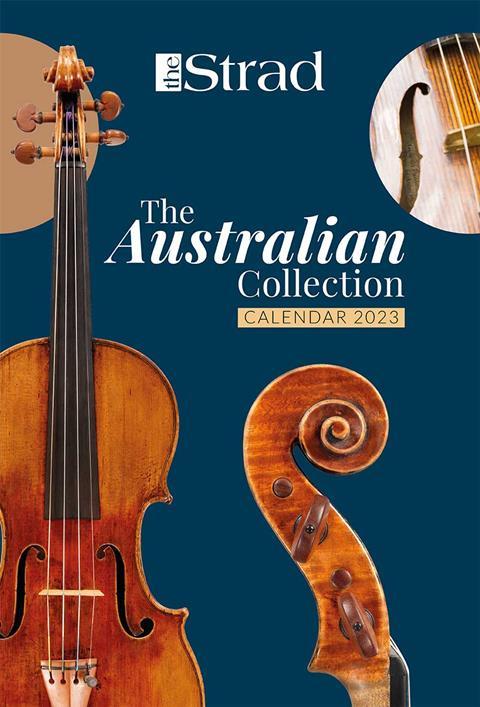 This year's calendar celebrates the top instruments played by members of the Australian Chamber Orchestra, Melbourne Symphony, Australian String Quartet and some of the country's greatest soloists.