The British cellist, composer and founder of new music group Apartment House on John Cage and how visual art helped to open his mind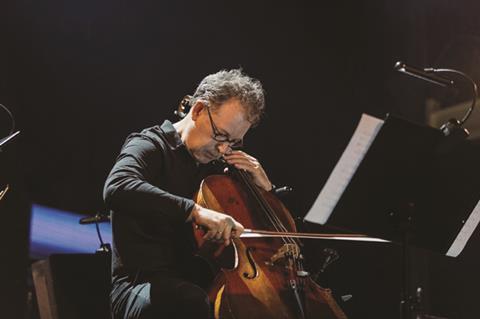 Anton Lukoszevieze © Michael Rasmus
I take quite a practical approach to the cello and I don't pay attention to a lot of the guff out there about things like tone and vibrato. Maybe it would be different if I were playing things like the Elgar Concerto but to be honest, it'd be more interesting to hear what that sounded like without vibrato, too. At the end of the day, the cello is a loudspeaker with four strings attached to it – it's yours to do what you want with. I prepare my cello with pegs, clips and pieces of paper when I improvise, and using a curved (Bach-bogen) bow I can play four-part chords.
That said, I've always doubted the supposed greatness of the instrumentalist and I'm a little reluctant to think of myself as a 'cellist' in the usual sense of the word.
With music up until about 1900 you're faced with a vortex of self-similarity. You've only got what's there and the permutations for concerts are limited. When I was 12 or 13 I began to discover more modern scores at my local library and started listening to a much wider repertoire. I remember taking a score of the Ligeti String Quartet no.2 to my cello teacher, who said, 'Oh, I don't think anyone can really play things like that.' I knew they could, though, because I'd saved up my pocket money to buy a recording of it by the LaSalle Quartet.
Although I was passionate about music when I was a teenager, I knew it didn't give me everything I wanted, so I began to explore making visual art. It opened my mind to different ways of thinking and is still a big part of what I do today: making paintings and collages that are independent of the music I write and play, but which sometimes have a conceptual link to them.
Being an orchestral musician or playing in a string quartet are both absolutely fine things to do, but they're both straight lines and that just isn't how life works for me personally. It's always a good idea to break out of whatever cage you find yourself locked inside.
When I was about 18 I picked up a copy of For the Birds, a book of conversations with John Cage, and I read it over and over until the pages started to fall out. People say that things like 4'33" and the pieces using indeterminacy aren't 'real' music but the reality is that Cage wrote in many different aesthetic ways throughout his life.
He looked to people like Marcel Duchamp and tried to make his art in the same way they made theirs – his work has a wonderful freshness that comes with listening closely to our environment. Cage had one of the greatest minds of the 20th century and his influence is inescapable today.
Interview by Tom Stewart