In the final instalment of his four-part blog series, Junior Guildhall violin professor Ivo Stankov shares tips on performing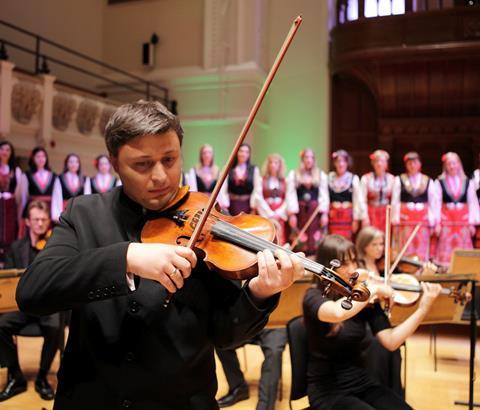 Rule 1 - Control with your brain
Anticipate and secure in your mind all technical details through controlling the flow of your thoughts – find the 'click' moment for each section or passage in which playing it feels in perfect sync. Let that process take its shape naturally over time, in preparation for the muscle memory to kick in and to take over. Perform the whole piece as written but slowly, as in 'slow motion camera' mode - it will provide you with more time to think and to anticipate in advance all details. Build up your performance stamina by playing consecutively three times without stopping as if you are on stage- zoom out and let go of the technical details (which should be supported already by the muscle memory), and be mentally present in the musical moment.
Rule 2 - Express feelings with your heart and soul
Prioritise musical details of phrasing, character, and style, over the technical aspect. Think of colours, visualise scenery pictures, and remember personal experiences to connect with the music character. Express how all the above is making you feel and show those emotions through the music. Deliver a personal performance – imagine that you already are the best violinist you've ever heard and become the best version of yourself, the artist you can be on stage!
Rule 3 – Communicate with your sound and body
Compare your playing sound to a singing voice (imagine consonants and vowels), and be aware of the sound projection and articulation. The stage acoustic you perform in will generally determine if more 'consonant-like' articulation is needed for clearer sound projection (for example performing in bigger halls or churches), in which case you should play with more articulated bow strokes. Feel connected with your body to the appropriate musical character you are embodying, and express that connection freely through body movement. Think about your sound projection as actors speak up on stage - you need to make sure that through your body language and clear sound projection the communication with the audience has been well established. Once you feel that moment of connection, keep the level of focusing until the end of your performance.
Stage confidence in performance
Build up confidence by making sure that your practicing is becoming each day more efficient and consequently your preparation is as solid as possible. The more complete your preparation, the more confident you will be on stage.
When performing, show the result of what you have been practicing (arguably for quite sometime) – be positive and keep the energy levels up while also connecting with your artistic side. Feel at home on stage – the more performance experience you have, the more you will feel less nervous and naturally at ease playing on stage in front of people. Own the stage – as you are feeling more at home on stage and building up your confidence through all the above points, you will be able as an artist to effortlessly perform and freely express your ideas and personality through the music, and to connect with the audience in the process.
More info on: Violin Tips Practicing Guide - How to Perform - Stage Performance
Watch Ivo Stankov perform Bulgarian Rhapsody Vardar by Pancho Vladigerov with pianist Ivo Varbanov.
Ivo Stankov is a violin professor at Junior Guildhall and is the creator of the Violin Tips Practice Guide. He has performed as a soloist with the English Chamber Orchestra and the London Mozart Players, and has recently recorded a CD of Mendelssohn's violin and piano concerto with the Royal Philharmonic Orchestra for Meridian Classics. He is the founder of the London-based Stankov Ensemble and is the organiser of the London Festival of Bulgarian Culture. He plays on a 1787 Gagliano violin.
Read: How to practise a piece – 3 stages of learning
Read: 6 technical ways for improving your practice
Read: The 3-points practicing routine: Description - Action - Result
Opinion: Opinion: Solo exploring
The 3-points practicing routine: Description - Action - Result
1

2

3

4

Currently reading

How to perform with confidence – 3 golden rules about stage performance