The period instrument quartet explains why all players should feel able to dip a toe into historically informed performance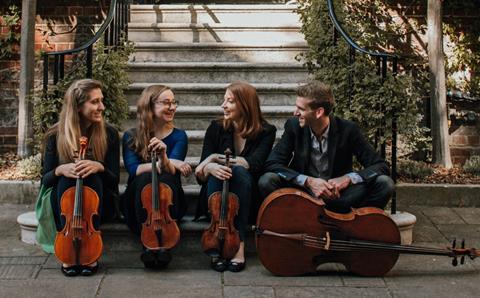 The string quartet repertoire is amazingly rich, and we decided as students at the Royal College of Music that it would be fun to form a gut string quartet with the idea of exploring the repertoire we love but from a different perspective.
Gut strings have a warm and special sound with so many colours to explore and incredible blending capacity. The sound is imperfect, in some ways dirtier than the brilliance of metal strings, but in a way that allows you to really characterise the music. It feels honest and visceral, but then you also have to know how far you can push the sound. With gut strings, the player is forced to work harder to really draw the sound from the string and with the rougher texture of the sheep gut, you really feel the connection between notes when shifting. It is a very physical process.
However, playing on gut strings presents a great many challenges. They are particularly sensitive to changes in the environment such as temperature and humidity, so tuning and squeaking can be problematic! Because of this, we feel that we can't be so fixed in our interpretations, and instead we work in rehearsals to find as much freedom as possible. Our hope is to honour the spirit of the music and to get as close as possible to the intimacy of a 19th century chamber music performance.
Read: 9 thoughts about playing on gut strings
Read: How to play on gut strings for the first time
Read: Isabelle Faust on how playing period instruments has improved her bowing
Specialising in music of this particular era has encouraged us to programme more adventurously, exploring lesser-known composers of the time. Many of them were very much related to the big names whose music we all know and love. Digging up stories about these connections is always fascinating!
We are filled with optimism by the gradual blurring of the lines between 'modern' and 'period' musicians. Whilst it is great to specialise, it is so healthy for musicians to feel comfortable playing in a variety of different styles; it all adds to our musical understanding and can only be a positive thing. Any musician should feel able to dip a toe into period performance.
There are lots of ways of getting started. For anyone wanting to try it, a good place to start is to borrow a period bow. These bows are lighter and less complicated than their modern counterparts and they encourage you to phrase and articulate the music in a specific way.
Another aspect to our approach, and something that any musician can easily do, is to study some old editions – whether it be Haydn's Artaria or Ferdinand David's Mendelssohn parts – the markings you find in these scores can inform a wealth of decisions. For example, the fingerings and bowings of David and his contemporaries reveal just how much portamento they would have done. We are used to the perfectly polished sound of recording and so this style of playing can initially seem quite alien to modern ears, but immersing yourself in this musical language opens the door to so much freedom and expression.
…………………………………………………………………………………………………………………….
If you are interested in what we do, please check out our new online concert series, Barnstorming! which is generously supported by Continuo Foundation. For the first concert, out on OnJam on 1 July, we will be joined by our friend, Alex Rolton on cello for some curious, lesser-known works. The first is Beethoven's Sonata for piano and cello op.5 no.1 in F major, arranged for string quintet by his friend and pupil, Ferdinand Ries. The second piece is George Onslow's String Quintet in C minor op.38, nicknamed 'The Bullet' and based on a true story of when Onslow was shot while out hunting with friends. There will be a pre-concert Zoom chat, where the audience can ask questions and hear more from us about the music, the beautiful barn we filmed in, and the huge pleasure of making music with friends, post lockdown.
Zoom chat: 1 July 2021, 7.15pm BST
OnJam concert and tickets: 1 July 2021, 8pm BST
The Consone Quartet is represented by Avanti Arts.