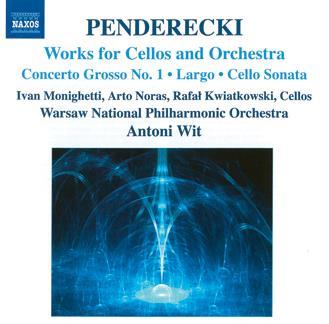 The Strad Issue: January 2009
Musicians: Ivan Monighetti (cello)† Arto Noras (cello)* Rafal Kwiatkowski (cello) Warsaw National Philharmonic Orchestra, Antoni Wit (conductor)
Composer: Penderecki
Penderecki's output is something of a stylistic anomaly. The Polish composer is best-known for his seminal 1960 work for strings, Threnody to the Victims of Hiroshima, with its irresistibly wild and inventive string textures. Against this, the first two works on this disc, dating from 2000 and 2003 respectively, sound almost pedestrian in their late-Romantic language, though they still manage to hang on to Penderecki's customary intensity and power. The Concerto grosso for three cellos and orchestra does make for some wonderful textural possibilities from the soloists: strikingly beautiful declamations from one cello are chipped away at by the other two, with the smallest of gestures repeated. The fifth movement brings moments of particular inventiveness, where an orchestral rumpus leads to a steamy cadenza: one cellist describes soaring, passion-filled lines while the other soloists dovetail in and out.
Arto Noras brings equal intensity to the Largo for cello and orchestra, sustaining Penderecki's rich phrases over a drifting orchestra in the first movement, and digging deep for some velvety tone colours in the rich but restless second movement.
The Sonata for cello and orchestra of 1964 plunges us back into the detailed string effects of Penderecki's early writing, distinctive and raw. Ivan Monighetti tackles its highly coloured language with power and flair, and the orchestra makes an equally compelling response. The recorded sound is exacting and clear, perfectly suited to this most visceral of music.
Catherine Nelson