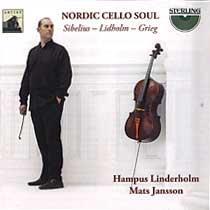 The Strad Issue: January 2014
Description: No revelations in this exploration of some byways of Nordic cello musicHampus Linderholm (cello) Mats Jansson
Musicians: Hampus Linderholm (cello) Mats Jansson (piano)
Composer: Sibelius, Lidholm, Grieg
Early works by major composers are often hit or miss. Unfortunately, Sibelius's juvenile cello works are entirely unexceptional: they are cast in a Romantic salon style, are pleasantly melodious, and encompass some virtuosic display. Hampus Linderholm delivers this somewhat saccharine fare eloquently, and addresses the technical issues adeptly, particularly in the Variations for solo cello. More striking are the Four Pieces by Ingvar Lidholm, which offer a fierce rhythmic current clad in pungent atonality and which are motivically and contrapuntally orientated. Only the final 'Con Espressione' brings a more atmospheric and reflective mood, though it too is garnered with piquant, hard-edged chords. The closely worked invention is given a committed rendition in this clear recording.
Grieg's salon-like Intermezzo has an elegant charm to it, but his Cello Sonata is the towering work here, offering an intoxicating fusion of folk melodies with Romantic harmony. It's a quixotic mix of the bold and lyrical – of honeyed melodic invention with furious virtuoso show passages. The blend is compelling, and Linderholm and Mats Jansson bring the dramatic theatricality of the music centre stage. These artists have perfectly absorbed the language, giving a roller-coaster performance. Their interpretation of the Andante is simple yet expressive, and they are exhilarating in the ensuing Allegro.
Joanne Talbot