Violin Society of America convention in Cleveland reveals winners in violin, viola, cello, bass, quartet and bow categories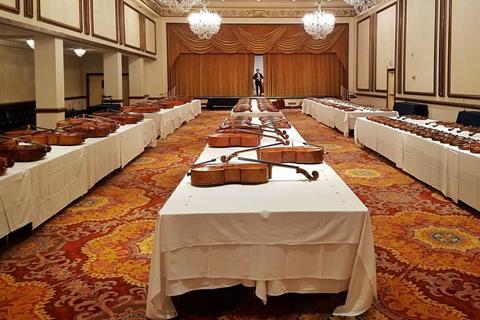 Two double golds and nine gold medals were awarded at this year's Violin Society of America international makers' competition, held in Cleveland, Ohio, from 4 to 9 November. Over over 350 instruments and 100 bows were submitted.
Double Gold Medal for Tone & Workmanship for violin went to Mira Gruszow and Gideon Baumblatt (who work as a team in Berlin), and in the double bass category to Albuquerque-based Christopher Savino.
This years gold medalists were:
Violin
Justin A Hess
David Leonard Wiedmer
Philip Ihle (The Strad's lutherie consultant)
Cello
Hayato Nagaishi
Damien Gest & David Leonard Wiedmer
Bows
Yongje Song (for both violin & cello)
Lucie Martinie (viola)
Victor Bernard (bass)
The biennial competition has a separate panel of Workmanship and Tone judges, and its rule book states that it aims to identify 'those instruments and bows having the greatest artistic merit, technical execution, and in the case of instruments, tone quality'.
The competition does not automatically award gold medals to the best entries, reserving that accolade for outstanding examples. In its previous edition, eight bow golds were handed out, but only two for instruments.
Violin Society of America: 23rd International Competition Full list of winners
Violin
Double Gold Medal for Tone & Workmanship
Mira Gruszow & Gideon Baumblatt
Gold Medal
Justin A Hess
David Leonard Wiedmer
Philip Ihle
Silver Medal for Workmanship
Arie Werbrouck
Piotr Pielaszek
Yunhai Xu
Mark Schnurr
Gabor Draskoczy
Silver Medal for Tone
Certificate of Merit for Workmanship
Michael Doran
Gencer Cerit
Xiangwei Chen
Guy Harrison
Krzysztof Krupa
Certificate of Merit for Tone
Xiaowei Liu
Benjun Zheng
Eduard Miller
Yan Wang
Christian Pedersen
Michael Daddona
Qi Cao
Andrew Ryan
Jiwon Han
Artur Friedhoff
Viola
Silver Medal for Workmanship
Piotr Pielaszek
Noemie Viaud
David Leonard Wiedmer
Dong Pil Im
John Simmers
Double Certificate of Merit for Tone & Workmanship
Certificate of Merit for Workmanship
Louis Gord
Weitao Gong
Yunhai Xu
Jinlong Yang
Shiquan Zhaohao
Certificate of Merit for Tone
Haide Lin & Zu Liang Wu
Christian Pedersen
Xiaowei Liu
Stanley Kiernoziak
Mason Weedman
Don Noon
David Polstein
Fuzhen Jiang
Matthew Noykos
Theodore Skreko
Cello
Gold Medal
Hayato Nagaishi
Damien Gest & David Leonard Wiedmer
Silver Medal for Workmanship
Silver Medal for Tone
Mira Gruszow & Gideon Baumblatt
Double Certificate of Merit for Tone & Workmanship
Michael Doran
Charline Dequincey
Certificate of Merit for Workmanship
Peter Goodfellow
Yunhai Xu
Guy Harrison
Ian McWilliams
Certificate of Merit for Tone
Jason Starkie
Jonathan Hai
Yi Huan Wang
Jinlong Yang
Isabelle Wilbaux
Fabienne Gauchet
Frederik Bethke
Bass
Double Gold Medal for Tone & Workmanship
Double Certificate of Merit for Tone & Workmanship
Trevor Davis
Evan Davenport
Certificate of Merit for Tone
Quartet
Silver Medal for Tone
Jonathan Hai
Julia Jostes & Simon Eberl
Mira Gruszow & Gideon Baumblatt
Certificate of Merit for Workmanship
Minsung Kim
Yunhai Xu
Jinlong Yang
Certificate of Merit for Tone
Huo Rong Jiang & Yufan Chen
Zhen Nian Wang
Kevin Kelly
Violin Bow
Gold Medal
Certificate of Merit for Workmanship
Etzler Bernd
Ulf Johansson
Josephine Thomachot
Niall Flemming
Eric Gagne
Victor Bernard
Marie Chastagnol
Gary Leahy
Viola Bow
Gold Medal
Certificate of Merit for Workmanship
Yongje Song
Victor Bernard
Gary Leahy
Suoyi Ma
Cello Bow
Gold Medal
Certificate of Merit for Workmanship
Marcin Krupa
Niall Flemming
Eric Gagne
Victor Bernard
Gary Leahy
Lucie Martinie
Bass Bow
Gold Medal
Certificate of Merit for Workmanship