Champion of neglected works and new ways to programme music, Quint joins Wittenberg's roster for worldwide general management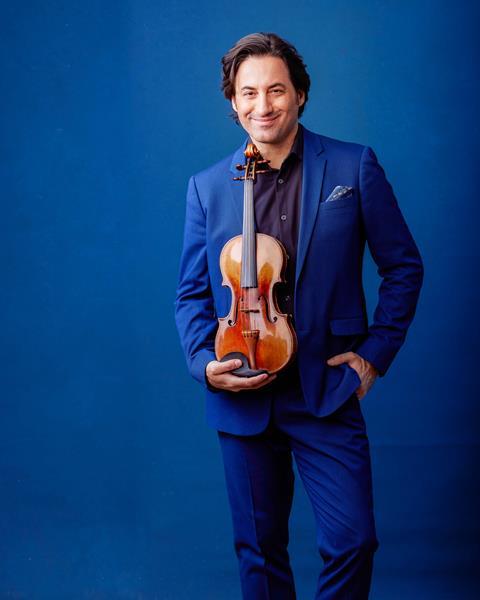 Wittenberg Artists has announced worldwide general management for Grammy-nominated violinist Philippe Quint.
A regular presence on respected stages with major orchestras worldwide, Quint is equally known for his interpretations of the standard repertoire as well as for his continued interest in rediscovering neglected works and focus on emerging composers of today. His highly acclaimed multimedia projects include musical explorations of the lives and works of Astor Piazzolla and Charlie Chaplin.
Quint expressed delight at joining the roster of Wittenberg Artists, 'I have had the pleasure of briefly collaborating with Martin Wittenberg through the waning days of Columbia Artists. I believe this re-established collaboration, with Martin's dedication to a very select group of artists, will prove to be an ideal partnership in fostering many of my musical dreams and projects.'
Martin Wittenberg commented, 'He has built and maintained an impressive musical career over the last 25 years that rests as much on his many musical friendships as it does on his artistic qualities and sheer endless creativity and curiosity. In these days, where making happy announcements seems somewhat out of place in any context, it feels meaningful to welcome an artist who values honest human connection as much as I do.'
As well as an international solo performing career, which recently included his album Smile consisting of his own arrangements of Charlie Chaplin's music, Quint is the first classical artist to star in the lead role of a major independent film, Downtown Express co-starring Nellie McKay, from producer Michael Hausmann (Gangs of New York, Brokeback Mountain, and Amadeus) and multiple Emmy Award-winning director David Grubin.
Quint studied at the Special Music School for the Gifted with Andrei Korsakov, going on to earn degrees from the Juilliard School. He counts Dorothy Delay, Cho-Liang Lin, Masao Kawasaki, Isaac Stern, Itzhak Perlman, Arnold Steinhardt, and Felix Galimir among his pedagogues and influences. Quint was the winner of the Juilliard Competition and a Career Grant Recipient of the Salon de Virtuosi, Bagby, and Clarisse Kampel Foundations. He was also the winner of the 2014 Ambassador of Arts award, presented by Brownstone and Gateway Organizations at the United Nations.
He plays the 1708 'Ruby' Stradivari violin on loan to him through the Stradivari Society.