The 18-year-old violinist performed a winning recital of Beethoven, Ysaÿe and Sarasate at Milton Court Concert Hall on 25 June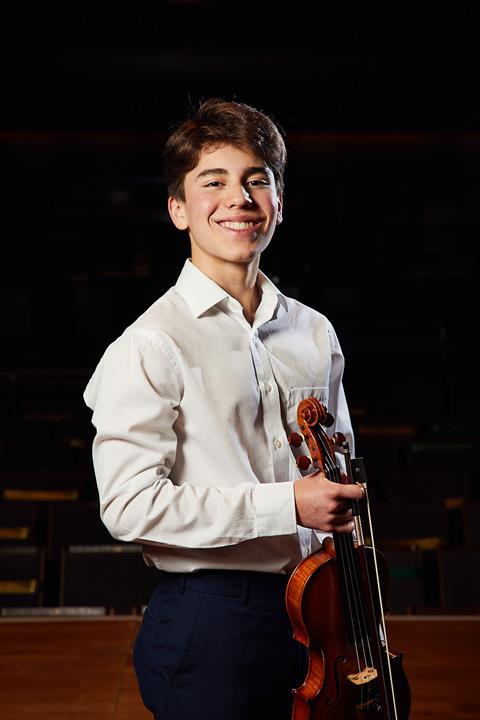 Marlon Barrios Araya has been awarded First Prize at the final of the Lutine Prize at Junior Guildhall.
The competition took place on Friday 25 June in Milton Court Concert Hall and was broadcast on Guildhall School's website on Saturday 3 July. The performance is available to view online until Saturday 10 July here.
Read: Violin prodigy Leia Zhu to perform at free BMW Classics concert in Trafalgar Square
Read: Joseph Joachim violin competition announces competitors
Concertmaster of Junior Guildhall Symphony Orchestra and Junior Guildhall String Ensemble, Barrios Araya performed a winning recital of Beethoven's Violin Sonata No 5, first movement, Ysaÿe's Violin Sonata No 2, first movement, and Sarasate's Zigeunerweisen, accompanied by pianist Louisa Lam.
Barrios Araya says, 'It has been an honour to study at Junior Guildhall, surrounded by promising young musicians and brilliant members of staff who inspire me every day to forge my artistry and musicality. I am eternally grateful to this institution for taking me as one of their students and offering me the opportunity to explore classical music in much greater depth.'
Born in San José, Costa Rica, Barrios Araya began his violin studies at the age of five. He performed his first ever solo debut at age 12, with the Costa Rica National Symphony Orchestra as a prize for being in the top six winners in the National Young Soloist Competition in 2015. After obtaining a full music scholarship from Whitgift School in London in 2016, he was admitted to Junior Guildhall under the tutelage of Ivo Stankov in 2017.