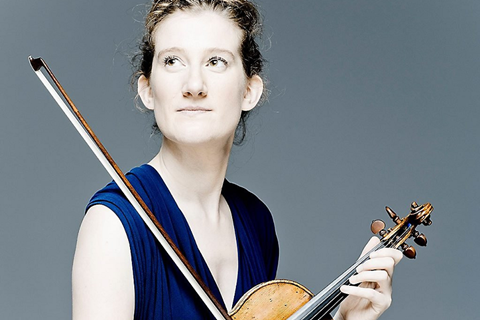 The Dutch Music Prize (Nederlandse Muziekprijs) will be awarded to violinist Maria Milstein, who will officially accept it at concert on 27 January 2018 at the Concertgebouw in Amsterdam, where she will play the Bruch concerto.
The announcement was made yesterday evening on Dutch public service broadcaster NTR's radio programme Podium, where Milstein was invited to discuss the release of her most recent recording.
The prize, the highest honour offered by the Dutch Ministry of Culture to a classical musician, is awarded to young musicians with prospects of an international career following admission to a development and mentorship programme. An advisory committee follows the applicant's progress and only awards the prize if it judges that the applicant has responded promisingly.
Previous prize winners include violinists Janine Jansen and Liza Ferschtman, cellist Pieter Wispelwey and double bassist Rick Stotijn.
According to the jury, Milstein's playing 'is blessed with a very intense and lyrical character'.
'In her hands, the violin is, as it were, a human voice. Through her instrument, she speaks in a language with a wide range of expressions, ranging from whispering intimacy to dynamic temperament. Each composition tells its own unique story.'
Milstein was born in Moscow in 1985 to a family of musicians (no relation to Nathan Milstein). She studied in Amsterdam with Ilya Grubert, London with David Takeno and at the Queen Elisabeth Music Chapel in Belgium with Augustin Dumay.
Now based in the Netherlands, she performs as soloist with orchestras there and abroad. She formed the Van Baerle Trio with pianist Hannes Minnaar and cellist Gideon den Herder and in 2004, and has taught at the Amsterdam Conservatory since 2014.
She has won prizes at international competitions both as a soloist and as a chamber musician, including at the Città di Brescia and Premio Rodolfo Lipizer competitions in Italy, the ARD Competition in Germany, the Lyon Chamber Music Competition in France and the Kersjes Prize in the Netherlands. She was awarded a Borletti Buitoni Trust fellowship in 2016.
She plays a c.1750 violin by Michel Angelo Bergonzi, on loan from the Dutch Musical Instrument Foundation.
Watch: Maria and Nathalia Milstein play Reynaldo Hahn's À Chloris