The serial competition winner joins the agency for general management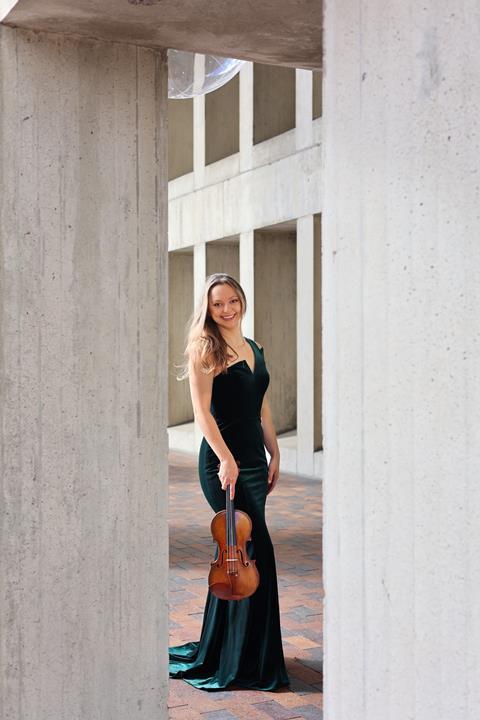 Read more news articles here
Austrian agency Raab & Böhm has announced the signing of US violinist Maria Ioudenitch for general management. The signing will be in close collaboration with Opus 3 Artists, who will continue to manage Ioudenitch for her North, South and Central America engagements.
Ioudenitch burst into the international spotlight in 2021, when she received first prizes in the Ysaÿe International Music Competition, the Tibor Varga International Violin Competition and the Joseph Joachim International Competition. She joins Raab & Böhm from zukunfts.music, Sonia Simmenauer's new project to accompany emerging artists on their first steps in the industry.
'I'm passing on the management of Maria to Raab & Böhm with a smile and a tear in my eye,' Simmenauer commented. 'She is indeed a very special artist. The vision of zukunfts.music is to accompany exceptional young artists in the first steps of their careers and I'm very pleased that Nora Pötter-Grabko and Christopher Dingstad have agreed to go with her to the next level.'
'To work with Sonia has been absolutely invaluable and I'm honoured to join the special family of artists at Raab & Böhm,' said Ioudenitch. 'Equally, I'm thrilled to continue my work with Emily McClean at Opus 3 for the Americas.'
Ioudenitch's debut album with pianist Kenneth Broberg, Songbird, is scheduled for international release on 24 March 2023. The album features a collection of Ioudenitch's favourite songs and songful instrumental works. 'Some of the pieces are arrangements, and others are untouched songs, where I just play the vocal line,' Ioudentich told The Strad. The rest are not actual songs but they're very lyrical and I thought they would fit beautifully into the programme.'
In the coming months Ioudenitch makes her debuts with DSO Berlin, MDR-Sinfonieorchester, Düsseldorfer Symphoniker and Münchner Symphoniker and returns to Kansas City Symphony. She recently finished her artist diploma at New England Conservatory with Miriam Fried and is currently working with Christian Tetzlaff as part of the professional studies programme at the Kronberg Academy.