The BBC Young Musician 2020 string category winner will receive tailored mentorship under Askonas Holt management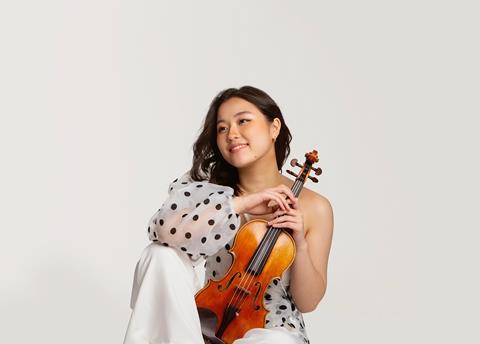 Read more news articles here
Japanese violinist Coco Tomita has signed with Askonas Holt as part of the company's Lies Askonas Fellowship. Under the scheme Tomita will receive personalised mentorship, tailored financial support, and the opportunity to grow in a sustainable way at the beginning of her career.
The 20-year-old rose to fame during the 2020 BBC Young Musician Competition where Tomita won the string category performing music by Ysaÿe, Debussy/Heifetz and Hubay. Since then, Tomita has completed a tour of Japan performing with Nagoya Philharmonic Orchestra and Tokyo Metropolitan Symphony Orchestra.
Tomita's debut album Origins recorded with Orchid Classics was described by The Strad as a 'head-turning debut' which sees Tomita weaving 'time-suspended beauty' throughout her rendition of Lili Boulanger's Nocturne.
The 2022/2023 season will see Tomita make her debut with the London Mozart Players performing Mendelssohn's Violin Concerto as well as performing a solo recital at St. George's Hall, Bristol with pianist Simon Callaghan.
Currently studying with Professor Kolja Blacher at the Hochschule fur Musik Hanns Eisler, Berlin, Tomita was previously at the Yehudi Menuhin School with Natasha Boyarsky and Lutsia Ibragimova.