The programme trains up musicians from underrepresented populations to create a pathway towards more diverse and inclusive orchestras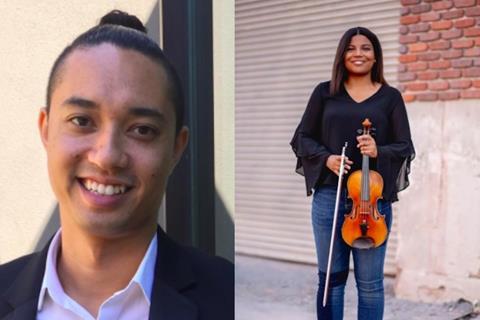 Two new musicians have been selected for the newly named Judith and Thomas L. Beckmen LA Phil Resident Fellows programme: violinist Sydney Adedamola and violist Jarrett Threadgill, whose fellowship commences September 2020.
Born and raised in Boston, Massachusetts, Sydney Adedamola began playing the violin at a young age, working her way through New England Conservatory's Preparatory School. She then moved to Los Angeles and earned her Bachelors in Music from the University of Southern California's Thornton School of Music. Her most recent appointment was in the second violin section of the Seattle Symphony. She has also held a position with the Long Beach Symphony and has performed with various orchestras throughout the country including Pacific Symphony, Kansas City Symphony, Los Angeles Chamber Orchestra, New World Symphony and the National Repertory Orchestra.
Jarrett Threadgill, a Southern California native, began studying music at the age of eight. He graduated from the Orange County High School of the Arts and received his Bachelor of Music degree from Chapman University's Conservatory of Music. He received his Master's from The Cleveland Institute of Music and was subsequently awarded a teaching assistantship and full-tuition scholarship at the University of Miami to pursue his Artist Diploma. He became a Viola Fellow with the New World Symphony from 2015 through 2018 and has performed with conductors including Michael Tilson Thomas, Paavo Järvi, Fabio Luisi and Esa-Pekka Salonen. During the 2018/19 and 2019/20 seasons, he served as Principal Viola of the Canton Symphony Orchestra and has also played with the Buffalo Philharmonic, North Carolina Symphony, The Cleveland Orchestra and the Toledo Symphony. In addition, he is an avid chamber musician.
Read: Six composers of colour to write new pieces to be performed by 24 orchestras
Read: Winners named in 2020 Sphinx Competition
Read: You can only diversify the audience by having a diverse group of people on stage
The Fellows programme, which has been renamed in recognition of a $1 million gift from Judith and Thomas L. Beckmen, is now in its third year. It was launched during the 2018/19 season with the purpose of creating a pathway towards more diverse and inclusive orchestras by providing training for early-career symphonic musicians from underrepresented populations.
Its goal is to prepare these musicians to compete for, and win, positions in major professional orchestras. Among those who have benefited in the past are violist Andrew François, who, on completion of the programme, won a position with the St. Louis Symphony; and violinist Eduardo Rios, who was appointed as First Assistant Concertmaster with the Seattle Symphony.
A cohort of Resident Fellows are appointed as musicians playing with the Los Angeles Philharmonic for up to three years, focusing on their artistic development through orchestral, chamber music, new music and educational concerts performed at Walt Disney Concert Hall, the Hollywood Bowl and in community settings. They also have the opportunity to participate in tours with the LA Phil.
Mentorship and lessons from LA Phil musicians and assistance with audition preparation are key components of the programme, to prepare Resident Fellows for future roles in major professional orchestras, including the LA Phil.
The Resident Fellows are selected through a screening and audition process led by musicians of the LA Phil and their Artistic Director Gustavo Dudamel.