The musicians share the €10,000 prize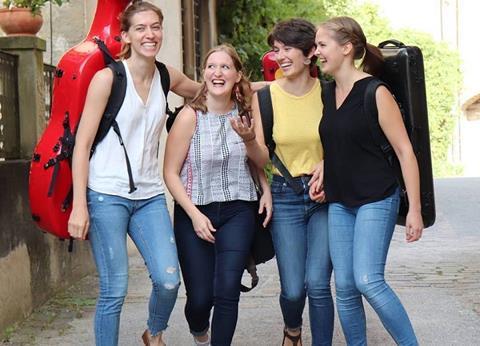 The 21st edition of the Chamber Music Prize of the Polytechnic Society has ended with two winners: the duo Tobias Reifland (viola) and Eunjoo Kang (piano) and the Malion Quartet, consisting of Sophia Stiehler (violin 1), Jelena Galić (violin 2), Ulla Knuutila (viola) and Bettina Kessler (cello).
The prize money of €10,000 is shared equally between all six musicians, who will perform at the prize-winner concerts in May 2019 at the Frankfurter Sparkasse customer centre.
Reifland, who studied with Professor Roland Glassl in Munich, and Kang, a student of jury member Angelika Merkle, performed Brahms's Sonata Op 120 No 2 and two movements from Sarasateana, Efrem Zimbalist's suite of Spanish dances.
The Malion Quartet, whose members all study in the chamber music class of jury member Professor Tim Vogler, performed two movements from Ginastera's String Quartet No 1, Op 20 and the 1st movement from Mozart's String Quartet in D minor, KV 421.
'Both the duo and the quartet convinced the jury with high-quality interpretations, which were characterized by great sensitivity to the music and an ability to take listeners into the world of the works played,' said Vogler.
Taking place in Frankfurt, the competition is open to ensembles with at least two members. Eight ensembles (five duos, two trios and a quartet) took part this year and the jury comprised: Christa Ratjen (chairman and representative of the Polytechnic Society) Laura Ruiz Ferrere, Angelika Merkle, Tim Vogler, Hubert Buchberger, Jan Ickert, Eike Wernhard and Harald Schoneweg (violin).