A trio and a string quartet share 10,000-euros in prize money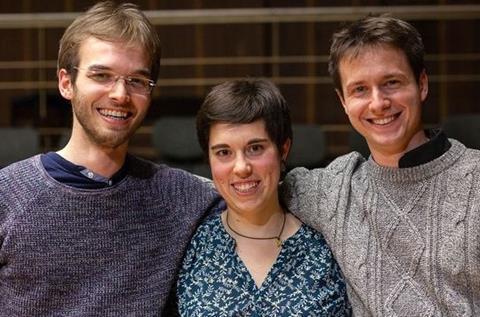 Le Concert dans l'Oeuf. Photo Rebecca Hahn
The chamber trio 'Le Concert dans l'oeuf', comprising Mariona Mateu Carles (double bass and violone), Arthur Cambreling (cello and viola da gamba) and Simon Wallinger (harpsichord), has won the main prize of 8,000-euros and two laureates concerts at the 22nd annual Chamber Music Prize of the Polytechnic Society 2019, which took place at Frankfurt University of Music and Performing Arts (HFMDK).
The group, whose members study at the HFMDK's department of historical interpretation practice, beat 15 other chamber ensembles to the top prize. The competition's jury praised their original programming: 'A combination of old and new music from Frescobaldi to Stockhausen.'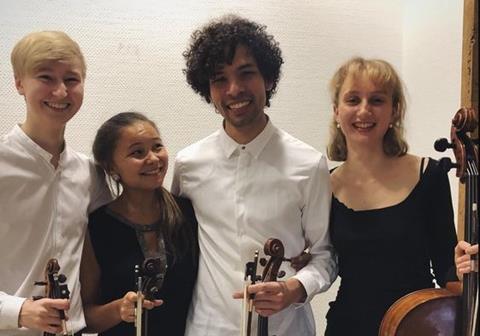 The Aavik Quartet. Photo Karolina Zukova
Placed second was the Aavik Quartet, whose members - Hans Christian Aavik (violin), Mona Verhas (violin), Josè Battista Junior (viola) and Clara Franz (Violoncello) - attend Tim Vogler's class at HFMDK. The group earned a prize of 2,000-euros and a performance at the Polytechnic Society's concert series next season after performing Erwin Schulhoff's First String Quartet and Mozart's String Quartet KV138.
The Chamber Music Prize of the Polytechnic Society is awarded in cooperation with HFMDK. The competition was initiated in 1998 and has been held annually since then. This year's jury included Tim Vogler as chairman, Christa Ratjen, Angelika Merkle, Hans Jacob Staemmler, Jan Ickert and Stephanie Winker as well as Manuel Fischer-Dieskau.