Formed in 2016 and based in the Berlin, the group wins at total of AUD52,500. Goldmund Quartet tops string quartet category.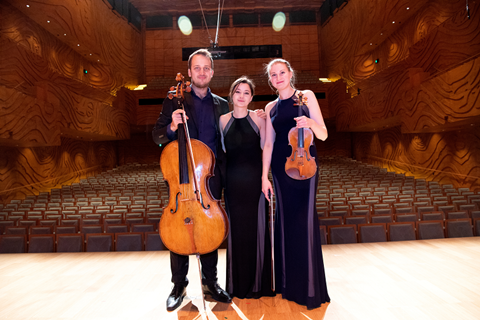 The Melbourne International Chamber Music Competition, which began with eight string quartets and eight piano trios on 1 July, awarded the Trio Marvin it's AUD30,000 grand prize on Sunday.
Added to the AUD22,500 it wins for winning the trio category, the group will take home the equivalent of nearly USD40,000.
The Goldmund Quartet came top of its category, winning AUD30,000, plus the commissioned work prize of AUD4,000
'The standard has been exceptional, making the jurors' decision extremely challenging,' said MICMC artistic director Wilma Smith. 'We've been privileged to witness the future of chamber music taking shape right here in Melbourne. And what a future that will be!'
Full prize list
GRAND PRIZE (AUD30,000): Trio Marvin
STRING QUARTET
1st Prize (AUD30,000): Goldmund Quartet
2nd Prize (AUD20,000): Eliot Quartet
3rd Prize (AUD10,000): Callisto Quartet
Audience Prize (AUD8,000): Baum Quartett
Quartet Commission Prize (AUD4,000): Goldmund Quartett
PIANO TRIO
1st Prize (AUD22,500): Trio Marvin
2nd Prize (AUD15,000): Trio Gaon
3rd Prize (AUD7,500): Amatis Piano Trio
Audience Prize (AUD6,000): Trio Gaon
Trio Commission Prize (AUD3,000): Trio Gaon
The competition jury comprised artist manager Sonia Simmenauer, pianist and composer Ian Munro; Simin Ganatra, first violinist of the Pacifica Quartet; Gerhard Schulz, former second violinist of the Alban Berg Quartet; Yura Lee, solo violist, and first violinist of the Enso Quartet; Alasdair Tait, cellist and CEO of the UK-based Young Classical Artists Trust (YCAT); and Kyril Zlotnikov, cellist with the Jerusalem Quartet.