The former London Symphony Orchestra concertmaster was 95 years old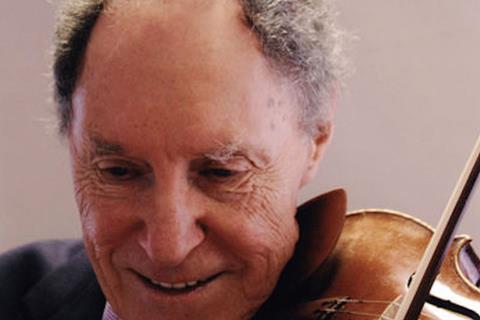 Erich Gruenberg, violin soloist and former leader of the London Symphony Orchestra amongst other ensembles, has died at his home in Hampstead Garden Suburb. He was 95.
Born in Vienna in 1924, he was among the children rescued from the Nazis by the violinist Emil Hauser, who travelled through Germany and Austria in the late 1930s, auditioning Jewish music students for his conservatory in Jerusalem, thus supplying them with a means of escape. Upon graduating from the Jerusalem Conservatoire in 1941, Gruenberg led the Palestine Broadcasting Corporation Orchestra for a few years, before moving to England to study with Max Rostal.
In 1947, Gruenberg won the Carl Flesch International Violin Competition, and, two years later, formed a trio with the pianist and composer Edmund Rubbra, and cellist William Pleeth (who later became widely known as the teacher of Jacqueline du Pré).
Gruenberg's orchestral career took off in the 1950s, starting in 1955 with his appointment as Concertmaster of the Stockholm Philharmonic Orchestra. 'By the mid-1950s I had already done just about everything else with the violin, from concertos and recitals to chamber music,' he told The Strad in 2012, 'so when a friend of mind mentioned that the Stockholm job was available, it felt like the next logical step. I had always found the rich tonal palette and fantastic range of expression possible in a symphony orchestra quite liberating.'
He later led the London Symphony Orchestra (1962-65) and the Royal Philharmonic Orchestra (1972-5). Talking to The Strad about the qualities of a good concertmaster, he said: 'I will never forget a piece of advice I was given when I went to Stockholm: "Play well and talk little." You must also have a certain authority and be able to get things done as quickly and clearly as possible. You should be aware of your section's strengths and weaknesses in order to find the best solution should any problems arise. You have to lead by example, but you must also be able to blend in and play as part of a team. A good working relationship with the conductor is essential. I don't expect a conductor to tell me how to play my instrument – it is their vision of the music that is important, and it is the concertmaster's responsibility to act as a conduit between conductor and orchestra.'
During his tenure with these orchestras, Gruenberg played under conductors including István Kertész and Pierre Monteux and had well-formed opinions of them all. 'I was very fond of István Kertész, especially his Dvorák and Schubert. He was an atypical Hungarian conductor in so far as he was extremely lyrical, relaxed and natural. Sergiu Celibidache was a fantastic trainer and could create the most beautiful combinations of sound through the beat alone. Gennady Rozhdestvensky could do anything with a stick with astonishing clarity. Sometimes he would indicate the beat with a mere fl ick of his little fi nger. Pierre Monteux, who was well into his eighties when I worked with him, was understandably very economical with his movements, and would give a tiny beat to indicate a fortissimo. Initially this caught me unawares and I underplayed the dynamic, and he turned to me amazed and asked, "What are you doing?"
Read: The Beatles and strings – part two

Watch: Erich Gruenberg: The art of leadership
Gruenberg recalled playing in the 50th anniversary concert of The Rite of Spring under Monteaux, who had also conducted the work's premiere in 1913. 'I remember when we were waiting backstage [Monteaux] told me he was terribly nervous, as it brought back all the memories of being a young conductor and having to cope with not only having Stravinsky in attendance, but also the chaos that ensued. But the performance he inspired that night was unforgettable.'
As part of his orchestras duties, Gruenberg played on several recordings by The Beatles, not least as lead violinist for the string interlude in 'A Day in the Life' - an experience on which he later reflected for The Strad: 'The Beatles were tremendously charismatic and of course they had ideas of what they wanted,' Gruenberg reflects. 'But they did not have the symphonic experience. That was where George Martin came in.'
In the video, the group had Gruenberg wearing a gorilla on his bow hand: 'That was a new experience for me,' said Gruenberg. 'We always dressed very formally. Back then it was tailcoats, not it's open collars – and that's fine.'
Gruenberg also established himself as a soloist, making numerous recordings, including the violin sonatas of Beethoven with David Wilde, and modern repertoire such as Oliver Messiaen, Berthold Goldschmidt and Roberto Gerhard.
In later years, he devoted more time to teaching, taking up a professorial post at the Guildhall School of Music and Drama in 1982 and at the Royal Academy of Music in 1989.
Several of his former students have left tributes on Facebook. Antonia Azoitei writes:
'He was a man of few-ish words but everything he did say spoke volumes. I loved his stories he would pepper my lessons with…I loved his stoicism… I secretly loved it that he always gave me the first violin lesson of the day at 08:00… And the way he would catch me out when he knew I hadn't practised! Calling my bluff by making me sightread the whole of the Sibelius concerto from beginning to end despite my protestations I hadn't had time to learn it….I chose him as a teacher because I had heard he was tough, and that was exactly what I wanted – he could indeed be uncompromising but what I wasn't expecting was his warmth, his humour and the constant twinkle in the eye. Needless to say, I chose well.'