Celebrating the centenary of Jascha Heifetz's historic US debut at Carnegie Hall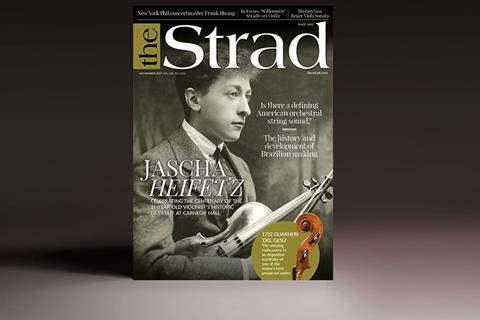 The Strad November 2017 issue is out now, in which we look back one hundred years to the 16-year-old Jascha Heifetz's US debut at Carnegie Hall: the moment the Russian virtuoso took to the world stage.
We take a close look at the 1732 Guarneri 'Del Gesù' violin which languished for decades in a dusty corner of a Buenos Aires opera house, and remain in South America for an investigation of the vital contribution of Italian migrants to the Brazilian lutherie tradition.
From there to the US, where New York Philharmonic concertmaster Frank Huang talks about China, America and the very different teachers who helped shape his sound; and we ask players and conductors for their opinion of whether there is such a thing as an American orchestral string sound.
In our regular sections:
In Focus features one of Antonio Stradivari's late masterpieces, the 1734 'Willemotte' violin; Francesco Piasentini explains his clean and efficient method for casting with dental plaster in Trade Secrets; My Space features the workshop of Chicago-based luthier Paul Becker; plus Torbjörn Zethelius returns to Making Matters eleven years since his last article with his latest findings on the arching techniques of the old Italian makers.
In our monthly Masterclass, Hartmut Rohde marks up the first movement of Max Reger's Viola Sonata; how contact point affects sound in Technique; American violist Nadia Sirota tells us her Life Lessons; the Postcard comes from Texas and the Bradetich Foundation International Double Bass Solo Competition; and Arabella Steinbacher discusses the Khachaturian Violin Concerto in Sentimental Work.
We also bring you news of the latest competitions, products and auctions, and comprehensive reviews of concerts, CDs and books.
The digital magazine and print edition are on sale now