The Strad marks its 130th anniversary with a look at the future of string playing and the violin industry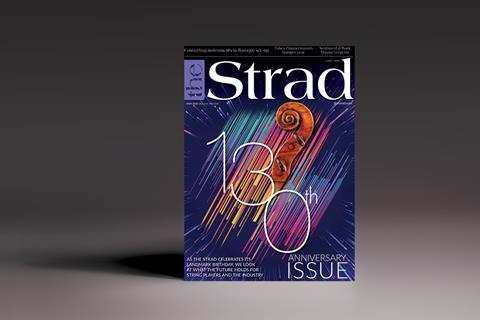 THE STRAD'S 130TH ANNIVERSARY: As we mark thirteen decades of string music journalism, Charlotte Gardner looks at the future of string playing while Philip Kass examines the violin industry
TABEA ZIMMERMANN: Amanda Holloway talks to the German viola player, teacher and festival artistic director about her myriad projects in what could be her busiest season yet
BAROQUE SET-UP: Sarah Peck demystifies the process of (re)converting an instrument for Baroque playing, with a run-down of the elements from fingerboards to tailpieces and pegs
MUSIC THERAPY: From schools and hospitals to family life, there are many ways for musicians to put their talents to use in the community, as violinist Joy Gravestock explains
LUTHIERS AND RSI: How can makers guard against repetitive strain injuries? Cameron Robertson and Sara Propes look at the questions that need to be asked, and the solutions
In our regular sections:
In the issue's Masterclass The Schumann Quartet's Liisa Randalu discusses Smetana's String Quartet no.1; in Technique American violinist and Juilliard tutor Joel Smirnoff discusses legato playing; British violinist Rachel Podger remembers her first experiences of early music in Life Lessons; plus in Sentimental Work Maxim Vengerov discusses the First Violin Concerto by Dmitri Shostakovich. Our Postcard this month comes from Cuba's music festival La Ruta de Mozart.
We inspect a 1704 cello by Barak Norman in In Focus; in Trade Secrets Luca Baratto details an intricate procedure for repairing damaged blocks; My Space looks behind the scenes in the workshop of Tokyo-based luthier Andreas Preuss; and in Making Matters we investigate a possible 'missing link' between a Cramer-head bow and an F.X. Tourte.
We also bring you news of the latest competitions, products and auctions, plus our regular analysis and opinion columns, and comprehensive reviews of concerts, CDs and books. Simply go to the current issue to explore the full content listing.
May 2020 also contains The Strad's special free Degrees 2020 supplement.
Plus, in your digital edition:
Read Charlotte Gardner's views on the future of string playing, accompanied by some of the current stars of the string world including Sheku Kanneh-Mason, Vilde Frang and the Arod Quartet.
View more angles and close-ups of our In Focus instrument, a rare cello by English luthier Barak Norman
Hear clips from Tabea Zimmermann's latest CD Cantilena, and enter our exclusive competition to WIN one of 10 copies of the album
More of luthier Andreas Preuss's well-appointed Tokyo workshop in My Space
View extra images from the festival La Ruta de Mozart in Cuba, as featured in Postcard from Havana
More technical information on Luthiers and Repetitive Strain Injury
And, as ever, clips from the three CDs this month enjoying that superlative appellation 'The Strad Recommends'
The digital magazine and print edition are on sale now, or subscribe to access the entire magazine online here