We celebrate the great American violinist Isaac Stern's 100th birthday with an examination of his chamber music collaborations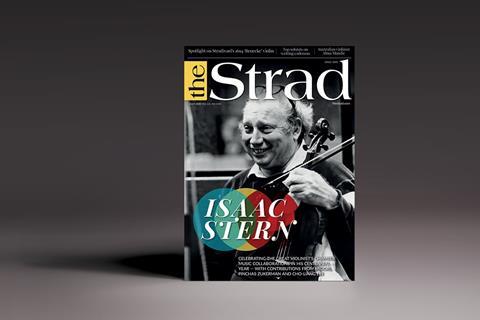 ISAAC STERN CENTENARY: The great American violinist would have celebrated his 100th birthday this month. Tully Potter looks back at his career, focusing on his chamber music recordings
1694 'BENECKE' STRADIVARI VIOLIN: Andrea Zanrè and Rudolf Hopfner examine this exceptional example of the master's 'Long Pattern' period, with the help of CT scans and evidence from his moulds
CADENZAS: More and more performers are being tempted to write their own showpiece – some competitions even require them to. Pauline Harding finds out how to go about it
SESSION REPORT: The members of the Dudok Quartet Amsterdam tell Peter Quantrill about the recording process behind their latest Haydn release
ALMA MOODIE: Although the Australian violinist left behind no recordings, her legacy lives on in the work she commissioned. Tatjana Goldberg gives a reassessment of her career
VIHUELA DE ARCO: Javier Martínez tracks the development of the medieval Spanish instrument, a forerunner of the viola da gamba, through contemporary images and literature
In our regular sections:
In the issue's Masterclass violinist Tai Murray discusses the first movements of Beethoven's 'Triple' Concerto; in Technique Jazz tutor Christian Garrick gives tips on rhythmic fluency through swing bowing; British violinist Jennifer Pike discusses her career and musical experiences in Life Lessons; plus in Sentimental Work Gypsy violinist Roby Lakatos explains his love for Monti's Csárdás.
We inspect a violin from the 1770s by Giovanni Antonio Marchi in In Focus; in Trade Secrets Andrew Ryan discusses his method for making bridges for cellos with distorted arching; My Space looks behind the scenes in the workshop of Cremona's Giorgio Grisales; and in Making Matters Alan Beavitt explains why cypress wood might provide an interesting alternative to spruce.
We also bring you news of the latest products and auctions, plus our regular analysis and opinion columns, and comprehensive reviews of concerts, CDs and books. Simply go to the current issue to explore the full content listing.
Plus, in your digital edition:
View extra photos of Isaac Stern, including one of him aged 13 and one of his earliest concert programmes
Read about the Dudok Quartet Amsterdam's project to record Haydn's op.20 string quartets, accompanied by audio clips - and don't forget to enter our competition to WIN the CD
More images of this month's In Focus instrument, a violin by the fascinating 18th-century maker Giovanni Antonio Marchi
See more of the workshop of Giorgio Grisales as he tells us how life has been for the Cremonese makers during lockdown
View how the Vienna Philharmonic attempted to prove how far musicians' breath travelled on stage, in an effort to persuade the government to lift its Covid-19 restrictions for orchestras
And of course, hear audio clips from the three CDs this month named 'The Strad Recommends'
The digital magazine and print edition are on sale now, or subscribe to access the entire magazine online here.