French violist Antoine Tamestit on performing Bach arrangements, plus a focus on his instrument, one of the world's few remaining Stradivari violas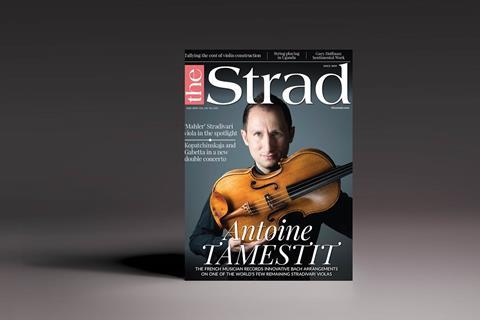 The July 2019 issue of the Strad is out now, featuring Antoine Tamestit and the 'Gustav Mahler' Stradivari Viola.
Tamestit releases not one but two albums of Bach arrangements in 2019: the viola da gamba sonatas and the Goldberg Variations for string trio. He reveals his innovative and thoughtful approach to these challenging works in conversation with Carlos María Solare.
His instrument, the 1672 'Gustav Mahler' Stradivari Viola, is this issue's instrument focus and subject of our new poster. It is the earliest surviving viola by the master luthier and also one of his most baffling instruments of any kind. Jonathan Marolle provides an in-depth appraisal.
Dutch composer Michel Van Der Aa wrote his new double concerto Akin for violinist Patricia Kopatchinskaja and cellist Sol Gabetta – all three join us for a discussion about the work. Plus the Edinburgh Quartet tell us about their innovative apprenticeship scheme; and we journey to Uganda to learn about the single-stringed endingidi and how string players are faring in the central African nation.
We have a full report from theWindsor Festival International String Competition; plus Toby Deller suggests that Harold en Italie contains a secret message to violists.
How much time and money does it take to make a single violin? Luan Amorim tries to answer this deceptively simple sounding question.
In our regular sections:
Our monthly Masterclass is from violinist Rodney Friend on Saint-Saëns's Introduction and Rondo capriccioso; violinist Pavel Berman on chords in Technique; British cellist Natalie Clein tells us her Life Lessons; plus Gary Hoffman on Brahms's Cello Sonata op.99 in Sentimental Work.
In Focus features a 1782 cello by William Forster II; James Thornton's method for regluing corner-blocks that have been split in Trade Secrets; My Space features the workshop of Hungarian luthier Pál Rácz; and in Making Matters Mathijs Heyligers gives an entire chamber orchestra a Baroque set-up.
We also bring you news of the latest competitions, products and auctions, and comprehensive reviews of concerts, CDs and books.
View the issue online here, subscribe or buy the issue in print
Plus, in this month's digital edition:
View extra photos of the art installation in Bonn's Marktplatz, part of the celebrations marking Beethoven's 250th birthday next year
More striking images of Antoine Tamestit in the company of the 'Mahler' Stradivari, plus a chance to hear clips from his latest CD of Bach viola da gamba sonatas with harpsichord
Extra pictures of this month's In Focus instrument, a decorated cello by English maker William Forster II
Close-ups and in situ images of a Guarneri copy made by Luiz Amorim, part of the 'Lutherie cost and time' article
Uganda and strings: more from Pauline Harding's report on the state of string teaching in the central African country
My Space: more from Hungarian luthier Pál Rácz's well-appointed workshop
And as ever, audio clips from the three recordings honoured with the esteemed moniker 'The Strad Recommends'
ALL WEBLINKS ARE NOW CLICKABLE, INCLUDING THE ADS
Do YOU have something to say about the new issue – or about the strings world generally? Send letters to the editor at thestrad@thestrad.com.