Over seven months of celebrations, the Royal Northern College of Music will raise money for its future musicians by showcasing its past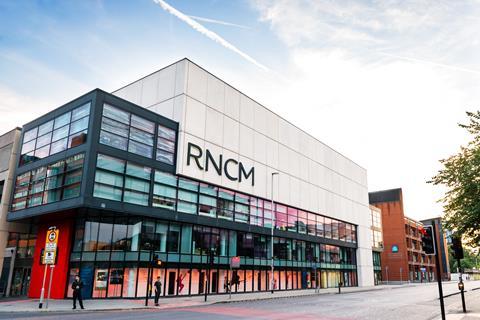 Read more news articles here
The Royal Northern College of Music (RNCM) is celebrating its 50th anniversary this season with a mission to 'define the future of music'.
The college, founded in 1973, will spend seven months from 10 December 2022 to 2 July 2023 performing popular works such as Johann Strauss II's Die Fledermaus and Bernstein's Requiem alongside premieres by professional and student composers, music creators and song writers showcasing new and contemporary works.
'This is a very exciting time for the RNCM. At 50 years young our journey is still very much beginning, but we already have so much to celebrate,' principal Professor Linda Merrick said. 'We continue to be recognised as one of the world's leading and most progressive conservatoires, inspiring young musicians to develop the skills and creativity needed to establish successful and sustainable careers across today's music industry.
'We are also proud to be at the heart of music-making in Manchester, from our unique public venues to the work we do transforming lives in the wider community. I know that our staff, students and alumni are looking forward to sharing this anniversary year with you all. It is going to be something truly special.'
Taking part across the city, including its famous Bridgewater Hall, the RNCM will be joined by Manchester Camerata, Opera North, BBC Philharmonic, Edward Grieg Kor, Chamber Orchestra of Europe and Manchester Collective. There will also be three artists in residence, all RNCM alumni, who will participate in public masterclasses and performances to both audiences and students.
As part of its initiative to 'define the future of classical music', the RNCM will use the celebrations to launch its RNCM50 Fund with the aim of supporting children and young people to pursue their musical ambitions.
'We know the power that music has in our hearts, minds and lives. It can unite and uplift, help and heal,' Rhiannon McKay-Smith, the RNCM's director of development said. 'Over the past couple of years, we've experienced the emptiness that a world without music brings. As we celebrate our anniversary, we're working hard to ensure that the next 50 years are filled with music and that we give our young people the chance to thrive and flourish in their musical conquests.'
The fund will help assist three major projects for the college: RNCM engage, a programme nurturing the musical talent of over 7000+ children and young people; Student Support, a scheme to remove all barriers to pursuing higher education in music; and RNCM Music and Health, that will train RNCM musicians to benefit young people in special educational needs in schools and hospitals around Manchester.