The Ivalas Quartet will start its residency in September 2022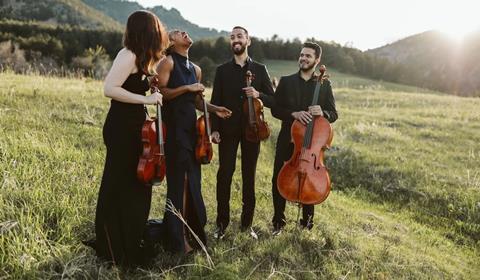 The Juilliard School has named the Ivalas Quartet as its graduate resident string quartet from September 2022. The ensemble's residency will last two years, after which the school will award the musicians artist diplomas in String Quartet Studies. The Ulysses Quartet was the Juilliard's last resident quartet, from 2019.
The Ivalas Quartet, which was formed in 2017 at the University of Michigan, comprises violinists Reuben Kebede and Tiani Butts, violist Aimée McAnulty and cellist Pedro Sánchez. From 2019 to 2022, the quartet was resident at the University of Colorado-Boulder, where the players were mentored by the Takács Quartet. The ensemble was also resident at the University of Northern Iowa in 2020 and the University of Central Arkansas in 2021. The quartet has performed in festivals across the world, and has studied with world-class quartets such as the Pacifica, American, Emerson and Escher quartets.
The quartet dedicates much of its time to celebrating BIPOC (black, indigenous, and people of colour) composers as well as taking part in educational initiatives. Through the Sphinx Organisation, the musicians have worked as educators across Detroit, specifically in Black and Latinx communities. They have also developed a partnership with El Sistema Colorado.
Dean and director of Juilliard's Music Division said of the quartet's upcoming residency: 'We are excited to have the Ivalas Quartet come to Juilliard this year and share their artistry with our audiences. The musicians arrive as an already accomplished ensemble that has distinguished itself on world stages, and they share Juilliard's values of inclusivity, artistic curiosity, and an unnwavering commitment to excellence in performance.' As residents, the quartet will be coached by the Juilliard String Quartet (JSQ), participate in the Juilliard String Quartet Seminar, and assist the JSQ in coaching student ensembles.