The Virtual Mini Sessions are designed to provide in-depth exploration of a wide variety of topics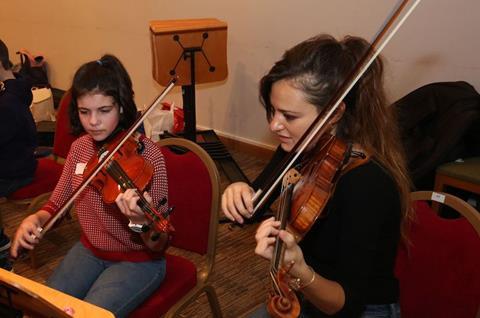 Following the first ever Virtual Sessions in May, the Benedetti Foundation - brainchild of violinist Nicola Benedetti - presents the Virtual Mini Sessions - short, focused workshops designed to provide in-depth and detailed exploration of a wide variety of topics.
Tutors are drawn from across the UK's conservatoires, orchestras and educational institutions and a full list can be seen at www.benedettifoundation.org.
The Virtual Mini Sessions consists of separate workshops for young people, music students, recent graduates, instrumental teachers and adult learners. They will take the form of practical sessions, concentrating on technique, physicality and wellbeing, as well as discussion sessions and a focus on professional and personal development for students and teachers.
Over July and August, the following workshops will be delivered:
School Age String Players
• Vibrato, an intensive learning course for violinists and violists (July) and cellists and bassists (August)
• Beginner Basics – workshops for upper strings (violin & viola) and lower Strings (cellos & basses)
• Shifty Shifts – upper strings, cellos & basses
• Young people, aged 16+, are also invited to join the Music Students, Recent Graduates Sessions.
Instrumental Teachers, Music Students, Graduates and Adult Learners
• Sessions for Music Students and Recent Graduates
• Instrumental Teachers' Sessions
• Building a Kodaly inspired music programme in Primary School
• Violin Basics for Adult Learners
Watch: Virtual Benedetti Sessions: Grand Finale
Read: Benedetti Foundation launches the Virtual Benedetti Sessions
How to get involved:
• Sign up at www.benedettifoundation.org/mini-sessions to join in
• There is a small admin fee to participate in the Mini Sessions. Bursary support is available – no one
will be prevented from attending due to financial circumstances.
• All of the Foundation's online work is made as accessible as possible, with many of its resources
available to all free of charge.
• The Benedetti Foundation relies solely on donations to carry out its work. Anyone who is in a position to make an additional donation towards the cost of the workshops will be welcome to do so.
For the detailed schedule and information, click here.