The Benedetti Foundation is set to provide musicians of all ages and stages with three weeks of free online tuition and activities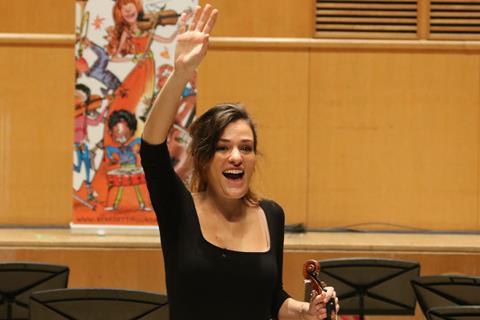 In response to the continued lock down, the Benedetti Foundation is set to provide musicians of all ages and stages with three weeks of free online tuition and activities, hosted on YouTube, Zoom and social media platforms. Starting from Monday 11 May, these Virtual Benedetti Sessions will offer:
regular seminars and presentations
general musicianship activities so all young people can join in regardless of whether they play an instrument
structured lessons and support
a series of workshops in physical and mental wellbeing
two live instrumental teachers' sessions per week
a weekly live session for conservatoire and university music students allowing them the opportunity to speak with and learn from inspirational figures in the music world
two weekly sessions for parents to offer the opportunity to chat with our tutors giving advice and tips on supporting their children's learning at home
Led by Nicola Benedetti and her Foundation team of tutors and ambassadors, these sessions will lead up to a final weekend of activity on 30 & 31 May, with a Grand Finale taking place on Sunday 31 May at 4pm BST. Everyone will be invited to audition for a place on the final recordings, with musicians submitting a recording of their part. A number of these will be added layer by layer to form the recording.
In the meantime, programmes of activity will be available for young musicians, conservatoire and university level music students, instrumental teachers, adult learners, non-instrumentalists, amateur musicians, parents, siblings and anyone else wanting to bang a pot or pan. Young school-age musicians will receive weekly live sectional rehearsals on their instrument via Zoom with their tutor, as well as pre-recorded videos with supplementary advice. Meanwhile, children who do not play instruments will receive tuition from the General Musicianship team, working on singing and rhythmic activites with a percussionist and Kodaly specialist.
Sample weekly schedule
Each week will follow the same schedule and will consist of a combination of live and pre-recorded lessons which can be watched at any time.
8.45-9.00am – Warmups – participants will self-select from a playlist of warm up activities
10.00am – Nicky's Message of the Day & Daily Tutorials released
12-12.30pm – Creative Team Take Over – Live lesson on Facebook
4.15-5.00pm – Live Sectionals for Intermediate Orchestra [under 18, school children only]
5.30-6.15pm – Live Sectionals for Advanced Orchestra [under 18, school children only]
The proposed instrumental schedule is:
Violin 1 – Monday
Violin 2 – Tuesday
Viola – Wednesday
Cello – Thursday
Double Bass – Friday
Conservatoire/University Music Students' Hour will take place on Monday from 7.30-8.30pm
Instrumental Teachers' Live Hour will take place on Wednesday and Thursday from 7.30-8.30pm
During each day, there will be a series of pre-recorded tutorials released from 10am which participants are able to access at any time.
Each weekend, participants are sent the schedule, links and passwords for the following week and the platforms to find all the sessions on.
How to get involved:
Sign up is open Friday 1 May, 9am BST – Thursday 7 May, 9pm BST – visit www.benedettifoundation.org/virtualsessions to join in
There is no cost to participate in the Sessions – the Foundation is dedicated to keeping all our online work free of charge and accessible to all. However, it is a registered charity and in constant need of support. It is asking those participants who are able to, to make a donation when they sign up.
Nicola Benedetti commented, 'This is a difficult time for everyone – the pandemic has affected every corner of our lives. I have a desire to make sure we are being as active as possible in the most helpful and serious way. The first Virtual Benedetti Sessions will offer anyone who wants to get involved the opportunity to be inspired, to work towards a goal and to come together. We hope for a collective moment, not just of music appreciation, but a sort of meditation and reflection of these unparalleled times whilst, of course celebrating the wonderful and collective achievement of young musicians all over the world.'