From 26 September to 2 October the Benedetti Foundation is offering virtual and live online sessions to all musicians interested in experiencing the world of Baroque music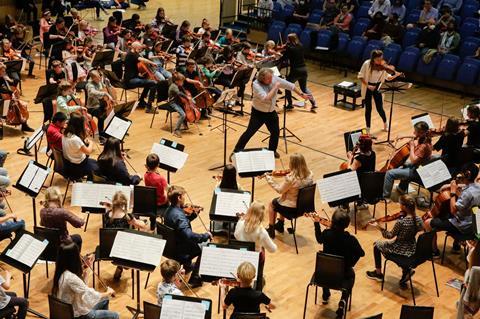 Read more news articles here
The Benedetti Foundation has announced its latest project, 'Baroque Virtual Sessions' taking place from 26 September to 2 October.
The sessions will be led by a team of international Baroque specialists including Rachel Podger (violin), Clifton Harrison (viola), David Watkin (cello), and Carina Cosgrave (double bass).
The Baroque sessions will be split into three events, including live online sessions on 1 and 2 October. From Monday 26 to Friday 30, the Benedetti Foundation's website and social media platforms will becoming filled with short participation and information videos from the experts, with cellist David Watkins hosting part 2 of the Discovering Baroque series on the foundation's YouTube channel.
The live online sessions over Zoom will be a chance for participants to meet the experts in a series of hour-long sessions exploring the energetic and revolutionary world of baroque music through the experts' own instruments. Participants have the option to join the Zoom sessions live or watch later as sessions will be recorded and available to watch for three months.
Nicola Benedetti said: 'Enter into this world with us and you won't look back. The more you hear and experience and learn, the more you are desperate to know. This music can unlock a freedom inside of us. I have experienced it myself and I am desperate for everyone else to experience that too. I really hope you will join our incredible team of Baroque musicians to discover more about this joyous music.'
The Benedetti Foundation prides itself on being accessible to all with many of the events free for all participants. The live online sessions cost £15 but there is the opportunity to apply for a bursary to cover the cost for those most in need. Registration is open until Friday 30 September via the link.
The Benedetti Foundation was established in 2019 by violinist and music educator Nicola Benedetti with the aim to deliver transformative experiences through mass music education and unite those who believe music is integral to life's education.