Australian cellist Miles Mullin-Chivers wins first prize at the New Zealand contest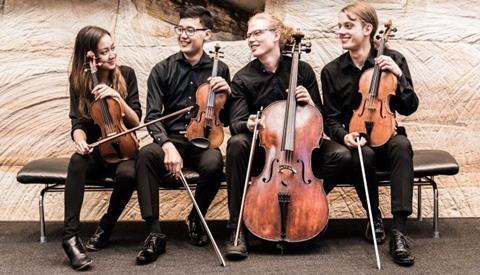 Cellist Miles Mullin-Chivers is the first-prize recipient at the Gisborne Music Competition
Australian cellist Miles Mullin-Chivers has won the AUS$10,000 first prize at the recent Gisborne International Music Competition in New Zealand, which concluded on 7 December.
The 21-year-old graduate of the Sydney Conservatory of Music is a regular cellist with the Sydney Symphony Orchestra and a member of the Pietra Quartet. He began studying cello in 2002 with Takao Mizushima, and has also been taught by the Goldner Quartet's Julian Smiles.
Placed second was Australian cellist Sam Lucas, aged 23, and 21-year-old US violinist Katherine Woo came third. The prize for most promising player was awarded to 17-year-old Australian violinist Leanne McGowan.
Other string players who won prizes at this year's contest include New Zealand violist Grace Leehan, British violinist Andrew Samarasekara, New Zealand violinist Diane Huh, and Australian double bassist Sebastian Pini, who received the International String Player Award. The Ian Dunsmore Memorial Jury Prize went to Australian violinist Marcus Michelsen.
The competition, which is held in the city of Gisborne on New Zealand's North Island, was launched in 1989 and is held annually. It is open to players of core orchestral instruments aged between 16 and 25 years.
The jurors comprised Auckland Philharmonia principal flautist Melanie Lançon and Goldner Quartet cellist Julian Smiles.