Ukrainian violinist Dmytro Udovychenko took first place, which included a cash prize of USD $50,000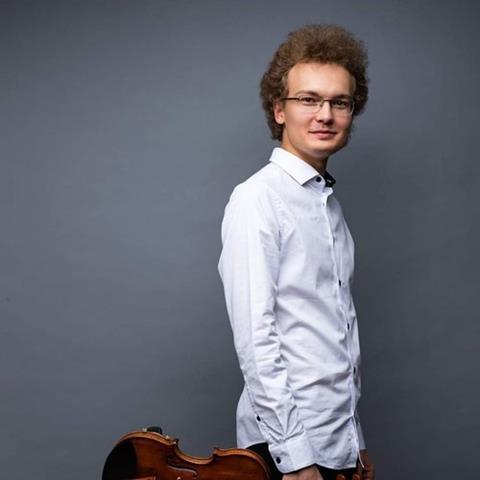 Read more news articles here
The prize winners for the 2022 Singapore International Violin Competition were announced following the grand final round on Wednesday 14 December.
From the final round, which saw three contestants perform a concerto with the Singapore Symphony Orchestra and conductor Joshua Tan, 23-year-old Ukrainian violinist Dmytro Udovychenko took victory with his performance of the Brahms Violin Concerto. He won a cash prize of USD $50,000. Danish violinist Anna Agafia Egholm took second prize, worth USD $25,000, while Hong Kong/Chinese violinist Angela Sin Ying Chan took third prize, worth $15,000.
Egholm also won the Goh Soon Tioe Violin and Piano Recital prize, worth USD $5,000, while Chan won the Kris Foundation Best Performer of Commissioned Work prize and prize for Best Performance of Ysaÿe, both worth USD $1,000.
From the earlier rounds, fourth prize of USD $6,000 went to Nathan Meltzer, fifth prize of USD $5,000 went to Tianyou Ma, who also won the prize for Best Performance of Bach worth USD $1,000, and sixth prize of USD $4,000 went to Yiying Jiang. I-Hao Cheng won the Audience prize, worth USD $2,000.
The top six contestants will also enjoy three-year loans of fine violins from the Rin Collection, which include a 1680 Stradivari 'ex-D'Annunzio-Baccara', 1719 Carlo Tononi, 1721 Domenico Montagnana, 1753 Giovanni Battista Guadagnini, 1793 Lorenzo Storioni and 1840 Giovanni Francesco Pressenda.
First prize winner Udovychenko began studying music at the age of five, going on the following year to study at the Kharkiv Specialised Music School with Lyudmila Varenina. He studied with rofessor Boris Garlitsky at Junior Department of the Folkwang Universität der Künste in Essen, Germany, embarking on a bachelor's degree from the same institution in 2016.
Udovychenko has won main prizes at the International Leopold Auer Competition 2015, the Jasha Heifetz International Violin Competition 2017 and the Grand Prix at the 2018 Andrea Postacchini Competition. In October 2018 he received second prize, the Audience Choice Award, and the Internet Community Prize at the Joseph Joachim International Violin Competition.
This year's competition jury was chaired by Qian Zhou and comprises Martin Beaver, Martin Engstroem, Lee Kyung Sun, Mihaela Martin, Joel Smirnoff, Tsu Vera Weiling and Krzysztof Wegrzyn.