Cecilia Tan reports back from the duo's record-breaking performance with the Singapore Symphony Orchestra on 16 November 2022, witnessing the pair's debut with two 1708 Stradivari violins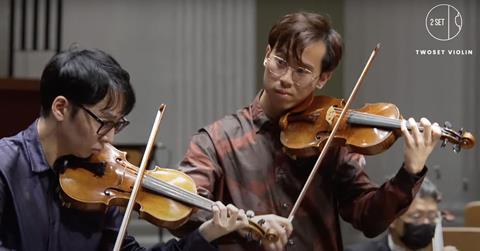 Discover more Featured Stories like this in The Strad Playing Hub
Flanked by stately gilt white columns and buoyed on the hush of a breathless audience, the conductor lifted his baton and soloist Brett Yang lifted his violin. Then, as the timpani rumbled, both the audience and violinist thought… what? The soloist recognised the opening of the Bruch Violin Concerto no. 1 and gamely dove into the opening phrase, drawing laughs and cheers from viewers all over the world. Yes, laughs and cheers, because it's not every classical concert that includes an epic prank on the soloist. But this is a TwoSet Violin concert, and not like any other.
Classical YouTube duo TwoSet Violin began posting Hans Zimmer covers and - according to the Singapore Symphony programme - 'sometimes painfully accurate videos' of life as orchestra musicians back in 2014. Violinists Eddy Chen and Brett Yang were then fresh out of conservatory, toiling in separate orchestras (Chen in Queensland, Yang in Sydney), and realising that although they had found employment as professional classical musicians, neither was likely to realise his childhood dream of being a globe-trotting violin soloist.
At least, not through traditional means.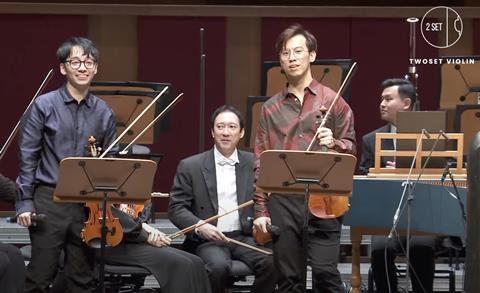 Fast forward a few years, and an offhand joke in one of their videos - that Brett would play the whole Tchaikovsky Violin Concerto if they reached two million subscribers - soon turned into a moral imperative. The '2 Mil Tchaik' livestream was viewed by over 40,000 viewers in real time with Brett as the soloist and Eddy playing the entire orchestra part on his own, while they merely stood in front of a curtain in their apartment. When time for '3 Mil' came in the midst of the pandemic, Eddy played the soloist role for the Sibelius Violin Concerto while Brett played the orchestra. And again an offhand comment planted a seed: what if for four million subscribers they could do it with a real orchestra?
Perhaps positive thoughts have a way of manifesting themselves around TwoSet. They have inspired millions to love classical music, to love practising, and to love playing their instruments again, and they also inspired the Singapore Symphony Orchestra to put on this one-night-only concert, and musical instrument specialists Tarisio to lend them a pair of 1708 Stradivari violins for the occasion.
Brett began practising for this concert over a year in advance, watching the subscriber count tick upwards at a steady rate. (In a slightly ironic twist, the count is stuck at 3.9 million because to prepare for the concert itself, Brett and Eddy took a few weeks off from making and posting new videos, which slowed the accrual of new viewers.) Two recurring themes in their videos are stage fright and struggles with intonation, meaning many in the audience of TwoSet devotees were in a state of high anxiety as Brett took the stage for the open rehearsal the morning of the concert.
No one needed to worry. All that practice - which included a video in which soloist Ray Chen joins in to force Brett to play random passages from the concerto while he's half asleep - truly paid off. If playing for an audience so devoted that all tickets had been snapped up in under two minutes and which included folks flying in from Boston, Los Angeles, Dubai, Spain, Germany, Australia, Taiwan - as well as Singapore's own Chloe Chua - was putting any extra pressure on Brett, he didn't show it. The rehearsal was a delight to hear, workmanlike and clean, and the lightness of the 'Empress Catarina' violin's tone suited both Brett's playing style and the sweetness in the Mendelssohn perfectly.
The concert itself opened with a rousing rendition of Mozart's overture to The Marriage of Figaro, letting associate conductor Rodolfo Barraez show off his most vivacious self and setting an energetic tone for the evening. Has the elegant and staid surrounding of Victoria Concert Hall ever held an audience so young that wasn't a special 'youth' concert?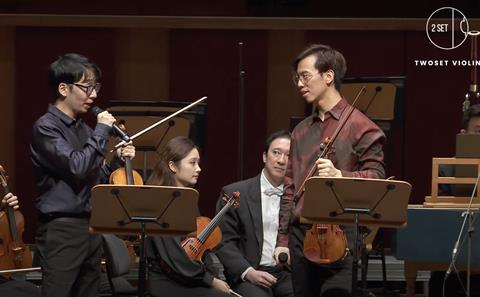 After speaking to the crowd for a few minutes, as well as addressing the combined online audience of over 50,000, Eddy went backstage while Brett took his place in the spotlight. Then came the prank, of course, because it wouldn't be TwoSet without a few laughs. Brett checked Rodolfo's score this time before they began again, this time with the long-awaited Mendelssohn.
Where the rehearsal was merely crisp, in the concert Brett's playing soared, in particular during the joyful sections of the third movement. He seemed as captured in the moment as the audience around the world, and embodied true delight. As one member of the audience remarked to me after the applause finally died down, 'I feel like we've watched him grow up right before our eyes.' The entire experience seems to have matured Brett's playing beyond our wildest imaginings.
The programme did not end with Mendelssohn, though. To show off the Strads to best effect, and to give Eddy a larger role in the evening, they also performed the Bach Double. With Eddy on the darker and more muscular-toned 'Regent, Superb' as a contrast, the counterpoint and interplay between the two violin parts was gorgeously illuminated, as was the chemistry between these two players, the product of their long and fruitful relationship.
The encore was a surprise: Brett giving way to Eddy for a fiery run at Paganini's La Campanella. After the concert, Eddy confessed that the idea for him to do it only surfaced two weeks ago - after a video in which he plays the character of Paganini - but his playing, too, has matured and evolved. All jokes aside, these two thrived in this strait-laced classical context, with not a hula hoop in sight.
So it went for one glorious, peak-experience night. There was one last surprise: the announcement that in 2023–2024 TwoSet will be doing another World Tour. We look forward to seeing what they dream up next.