Event returns for second edition with $100,000 total prize fund, of which half goes to the winner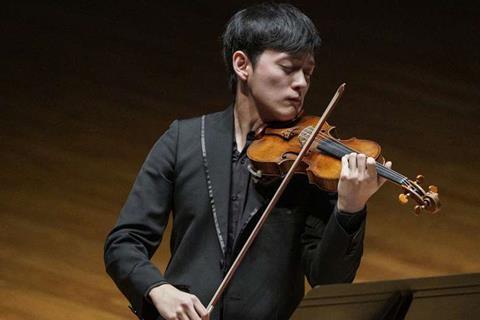 The Singapore International Violin Competition has announced the 34 participants of its January 2018 competition. Eleven countries are represented with nine violinists each from Japan and South Korea, six from the USA, three from China, and one each from Austria, Bulgaria, New Zealand, Singapore, Switzerland, the UK, and Ukraine.
Some of the young violinists may already be familiar to readers of The Strad from previous appearances on the competition circuit, such as Sergei Dogadin, Gyehee Kim, Anna Lee and Alexandra Lomeiko.
The competition will take place between 28 January and 8 February 2018, with progressive rounds moving from the Yong Siew Toh Conservatory Concert Hall, to the Victoria Concert Hall, and finally the Esplanade Concert Hall for the grand final with the Singapore Symphony Orchestra conducted by Joshua Tan.
The competition winner will receive a first prize of $50,000 (USD), international performance opportunities and a three-year instrument loan from the collection of Mr & Mrs Rin Kei Mei.
Bernard Lanskey, Dean of the Yong Siew Toh Conservatory of Music, said: 'We are honored to have such world-class candidates take part in our second triennial competition here in Singapore. Thank you to our esteemed Jury and Artistic Committee, Founding Partners and Sponsors for all of their support to make the Singapore International Violin Competition an ongoing success.'
The Jury is chaired by Qian Zhou and comprises Mauricio Fuks, Kam Ning, Kim Nam Yun, Boris Kuschnir, Silvia Marcovici, Paul Roczek, David Takeno, and Victor Tretiakov.
The 34 candidates are:
Misako Akama (Japan)
Namhyun Kim (South Korea)
Ji Won Song (South Korea)
Austin Berman (USA)
Chisa Kitagawa (Japan)
Sumina Studer (Switzerland)
Jung Min Choi (South Korea)
Oleksandr Korniev (Ukraine)
Elly Suh (USA)
Sergei Dogadin (Austria)
Anna Lee (USA)
Naoko Tajima (Japan)
Laurel Gagnon (USA)
Alexandra Lomeiko (New Zealand)
Yun Tang (China)
Luke Hsu (USA)
Kyung Ji Min (South Korea)
Yukiko Uno (Japan)
Zornitsa Ilarionova (Bulgaria)
Gabriel Ng (Singapore)
Eimi Wakui (Japan)
Yiying Jiang (China)
Kyoko Ogawa (Japan)
Albert Yamamoto (Japan)
Donghyun Kim (South Korea)
Soo-Hyun Park (South Korea)
Lisa Yasuda (Japan)
Gyehee Kim (South Korea)
Ashley Jeehyun Park USA
Minami Yoshida (Japan)
Jeein Kim (South Korea)
Tatjana Roos (United Kingdom)
YuEun Kim (South Korea)
Xiaoxuan Shi (China)
For full competition details visit singaporeviolincompetition.com

Read: Yu-Chien Tseng wins the 2015 Singapore International Violin Competition