Where's Simon? will introduce children to Mozart's The Marriage of Figaro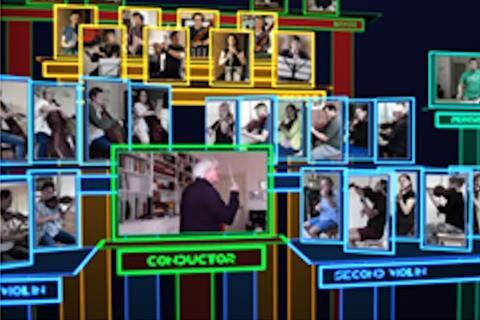 The London Symphony Orchestra releases a new film, Where's Simon? on 15 June 2020, introducing children to Mozart's The Marriage of Figaro.
In six minutes, the film, interspersing live action and animation, takes viewers on a musical journey as the players rehearse and prepare with Simon Rattle, all of them working from their front rooms, their kitchens, their bedrooms, revealing exactly how an orchestra works, with each musician introducing his or her instrument.
The film concludes with a full performance of the Overture to Mozart's famous comic opera, The Marriage of Figaro, conducted by Sir Simon Rattle from his home. As the grand finale, children are invited to join in and play along and then participate in an online quiz.
The brainchild of animator/director Victor Craven and LSO Principal Flute Gareth Davies, Where's Simon? will be available as a free stream from 14 June 2020 from the London Symphony Orchestra's website on lso.co.uk/alwaysplaying
Simon Rattle said: 'Although I've been prevented from making music with the orchestra since March, through digital technology, we've been able to share some of our archive performances on the LSO YouTube channel. However, this new project is a little different to our usual broadcasts. The LSO players and I have used our phones and computers to create this new online project. We thought it would be interesting for young people and their families to see how an orchestra like the LSO puts a concert together – an opportunity to meet the orchestra and watch how it all works to create one sublime piece of music by Mozart.'
Read: BBC Ten Pieces launches new music initiatives to keep children creative
Gareth Davies co-creator and LSO Principal Flute explains the project: 'This is a response to the period of social distancing and isolation caused by the Covid-19 pandemic. There have been wonderful, engaging, beautiful performances from musicians using Zoom, YouTube and other platforms during the lockdown. We wanted to create something different using the tools and materials we have at our disposal, an idea that engages, educates and entertains young children, and some grown-up ones too. As LSO Members we all miss playing live, but also taking part in our learning and community programme during this time. So this is what we came up with!'
Where's Simon? is one of a series of online projects released this summer by the London Symphony Orchestra, continuing their work to engage new audiences worldwide.