The Philharmonia Sessions, comprising three bespoke online concerts and documentary material, will launch on 17 July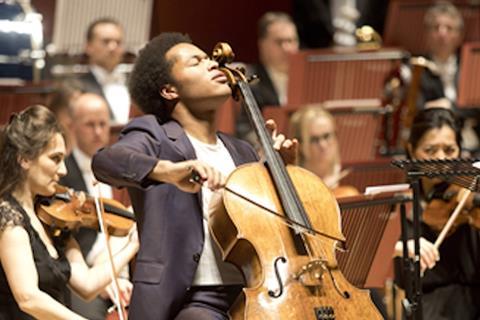 The Philharmonia Orchestra has today announced The Philharmonia Sessions – a summer programme of three free digital concerts, broadcast on YouTube and created for an online audience.
These concerts, each lasting 50 minutes, have been recorded in accordance with social distancing rules. They launch, on Friday 17 July at 7pm , with cellist Sheku Kanneh-Mason, who joins the Orchestra to perform Saint-Saëns Cello Concerto No. 1, in a programme that also includes Vaughan Williams's Fantasia on a Theme by Thomas Tallis, both conducted by John Wilson.
Read: Miró Quartet to perform complete Beethoven String Quartets in twelve livestreamed concerts
Watch: Sheku Kanneh-Mason on his signature dance move
Watch: Working from home: the Kanneh-Mason family
Performed with a chamber-size orchestra, the Philharmonia Sessions will be filmed several days in advance of their broadcast and will be presented alongside documentary material about the process of creating socially distanced performances in the current circumstances. The full programme will be announced in due course.
All three of the concerts will be viewable on the Philharmonia's YouTube channel. During the broadcasts, the Orchestra will ask those that can to make donations, which will help to keep the Philharmonia playing and to secure the orchestra's future at this uncertain time.