The twelve violinists are competing for a top prize of CHF20,000 as part of the Sion Festival in Switzerland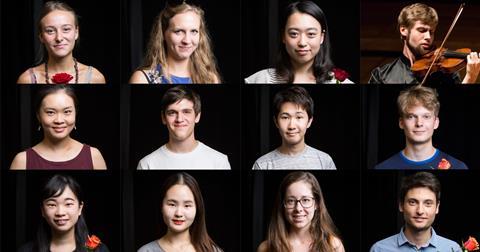 The Tibor Varga International Violin Competition, taking place from 18 to 24 August as part of the Sion Festival in Switzerland's Valais region, has entered its semi-final round with 12 candidates remaining.
A total of 28 were invited to take part in the first round of competition, following video preselection.
Open to international violinists aged 26 or under, the competition tests performers in recital repertoire and chamber music, and culminates in a final concerto round with the Lausanne Chamber Orchestra conducted by Gábor Takács-Nagy, incorporated into the Sion Festival programme.
First prize is CHF20,000 (c. $20,000) plus concert opportunities.
The semi-finalists are:
Adam Koch Christensen (Denmark)
Anna Agafia Egholm (Denmark)
Lorenz Karls (Sweden)
Honoka Kishimoto (Japan)
Oleksandr Korniev (Ukraine)
Roksana Kwaśnikowska (Poland)
Aoi Saito (Japan)
Mitsuhiro Shimada (Japan)
Paolo Tagliamento (Italy)
Ayaka Uchio (Japan)
Cécile Vonderwahl (Switzerland)
Jaewon Wee (South Korea)
Sitting on this year's jury panel are Georges Starobinski (chair), and Pavel Vernikov, Qian Zhou, Krzysztof Wegrzyn, David Takeno, Gilbert Varga, and Eva Zurbrügg.
Previous edition prize winners include Ji Won Song and Paul Huang.
In its previous edition in 2017 the competition did not award a first prize