The violinist came to attention in the west when he was asked by Benjamin Britten to record his Violin Concerto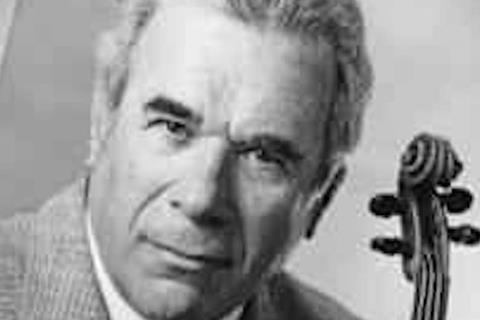 The Russian violinist Mark Lubotsky has died in Hamburg. He was 89.
Lubotsky, who studied the violin at the Central Music School in Moscow, and later with Abram Jampolski and Davis Oistrakh at the Moscow Conservatory, first came to public attention as one of the prizewinners at the World Youth Festival in Berlin in 1951, and at an international competition in Salzburg in 1956.
However, it was after emigrating to Holland in 1976 that his career began in Western Europe and the USA. Having sent Benjamin Britten his recording of the composer's concerto - with the Moscow Philharmonic under Kyrill Kondrashin - he was asked to record it again with composer conducting the English Chamber Orchestra.
Lubotsky also appeared in Japan, Australia and New Zealand, and at festivals in Santa Fe, Norfolk, Taukubi, Cheltenham, Aldeburgh, Bath and Dartington. In addition to Britten and Kondrashin, he also worked with the conductors Eugene Ormandy, Mstislav Rostropovich, Evgeny Svetlanov, Bernard Haitink, Gennadi Rozhdestvensky and Kurt Sanderling.
Keenly interested in contemporary music, as well as Classical-Romantic repertoire, he had a lifelong friendship with Alfred Schnittke, premiering the composer's first violin concerto, as well as the piano trio with Irina Schnittke and Mstislav Rostropovich. Later he devoted much time to championing the work of the Estonian composer Arvo Pärt.
In addition, Lubotsky was a violin teacher; he taught at the Moscow Gnessin Institute and, after his emigration, at the Amsterdam, Rotterdam and Hamburg Conservatoires, while giving masterclasses all over the world.
Paying tribute to Lubotsky on Facebook, critic Tully Potter wrote: 'Lubotsky was a very fine player, both tonally and technically, who always put the music first. I heard him live only once or twice but enjoyed his playing. He has left quite a few recordings, including the Bach solo Sonatas and Partitas, a number of concertos and chamber music. Personal favourites are the two Mozart Duos with Nobuko Imai.'
The Georgian violinist Lisa Batiashvili wrote: 'Rest in peace Mark Lubotsky, an outstanding musician and person, my first teacher in Germany at the Hochschule in Hamburg. Thank you for everything you have done for me in those most important years. Your generosity made it possible for me to come to Germany in 1991 and this was certainly the most important step of my life. My heartfelt condolences to the family.'