Alistair Rutherford sets new Guinness World Record for fastest marathon dressed as a musical instrument – breaking previous one by nearly an hour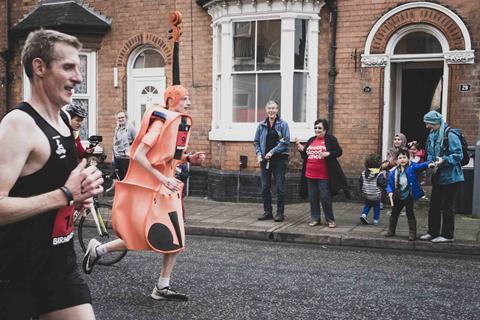 Alistair Rutherford, a Royal Birmingham Conservatoire student who earlier this year broke the Guinness World Record for running the fastest half marathon dressed as a musical instrument, took on the Birmingham International Marathon on Sunday 15 October.
His time of three hours, 20 minutes and 33 seconds is nearly 54 minutes faster than the existing record – set on 20 March 2016 at the Yuengling Shamrock Marathon in Virginia Beach by a runner dressed as a cowbell.
Rutherford, 21, is fundraising for the UK-South African project, Cape Gate MIAGI Centre for Music & Birmingham Conservatoire, ARCO.
ARCO has seen 24 South African string students aged eight to 17 selected to participate in weekly instrumental Skype lessons given by academics, current students and alumni of the Royal Birmingham Conservatoire.
Funds raised will now enable three ARCO pupils to fly to the UK to perform in a concert on 18 November as part of the second Cecil Aronowitz Viola Competition at the Royal Birmingham Conservatoire.
Rutherford said: 'I cannot thank everyone enough at the Royal Birmingham Conservatoire and ARCO, along with my family and friends, for their unwavering support throughout this challenge.
'Running the Birmingham International Marathon wasn't easy, particularly in my costume, but it was great to have them cheering me on along the route – whether in person or virtually – as well as the people of Birmingham, who came out in force to support all the runners.
'I am planning on resting The Running Viola for the moment, unless someone breaks my records! I'm looking forward to my work coming to fruition though, when my ARCO student comes to Birmingham in November.'
You can support Alistair's world record attempt via his JustGiving page. You can also watch videos of Alistair training in his costume.