The quartet are preparing its debut release of Haydn and Mozart for spring 2022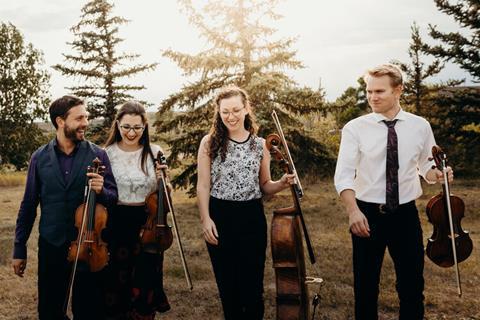 Halifax based classical record label Leaf Music has welcomed Rosebud String Quartet to its roster.
The Rosebud String Quartet's first release with Leaf Music will be in the spring of 2022. The album will feature the Franz Haydn String Quartets Op. 77, No. 1 & 2, and Mozart Viola Quintet, K. 614.The ensemble will be joined by Canadian violist Steven Dann for the Mozart.
In addition to recording their debut album, the ensemble has had a full slate of performances booked throughout Canada for the summer of 2021 including Toronto Summer Music Festival, Ottawa Chamber Music Festival, Sweetwater Music Festival, and the Rosebud Chamber Music Festival.
Comprised of violinists Aaron Schwebel and Sheila Jaffé, violist Keith Hamm, and cellist Leana Rutt, they are principal players from the Edmonton Symphony Orchestra, Orchestras of the Canadian Opera Company and the National Ballet of Canada. The quartet was formed in 2013 in Rosebud, Alberta at the inaugural Rosebud Chamber Music Festival, an annual summertime chamber music showcase in the Alberta Badlands. The RSQ performs regularly in series across Canada, including Stratford Summer Music Festival, Xenia Concerts, Stereo Live, Richard Bradshaw Amphitheatre Chamber Music Series, Echo Chamber Toronto, Pocket Concerts, and Music Mondays. The quartet was recently featured in CBC Radio 2 'In Concert'.
Owner of New Leaf label Jeremy VanSlyke states, 'We are thrilled to welcome the Rosebud String Quartet to our roster.. Their musicianship and passion will continue to connect with music listeners in concert halls and streaming platforms alike in the years to come. It's a privilege for Leaf Music to help bring their music to the world.'
Read: Abel Selaocoe signs to Warner Classics
Read: Violinist Nemanja Radulović signs with Warner Classics