'Play With Ray' competition culminates in Bach Double Concerto performance with the Los Angeles Philharmonic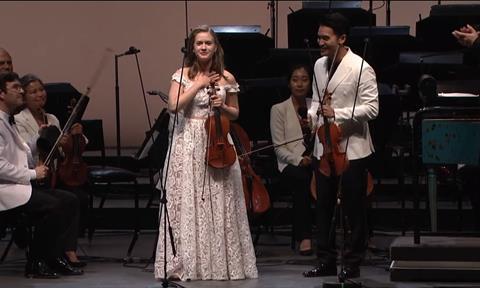 Ray Chen and the Los Angeles Philharmonic's 'Play with Ray' competition came to a close yesterday at a Hollywood Bowl concert. The winner, 18-year-old Laura Kukkonen from Finland, performed the Violin 2 part of Bach's Concerto for Two Violins alongside Chen, while the two runners up joined the orchestra's first violin section.
The competition was announced in March and invited video submissions from non-professional violinists worldwide for a chance to perform with Chen at the Hollywood Bowl.
More than 800 entries were received, from which three were chosen to travel to Los Angeles for the final stage. Adriana Bec, 13, from the US and Youngji Kim, 22, from South Korea, were the other two finalists.
Kukkonen, who was also loaned a 1775 Guadagnini from the Tarisio auction house, said: 'There are not enough words to describe how thankful I am for this experience. Getting a masterclass from Ray, playing on Guadagninis, doing extra activities, making new friends and, finally, performing with the outstanding professionals at the Hollywood Bowl – all of these are a dream come true and even more.'
'This competition has been an amazing experience,' said Chen, 'The partnership with the LA Phil at the Hollywood Bowl brought my dream to life of being able to provide people around the world a fun and unique opportunity, and to have a little something extra to practice for.
'All of these young women are immensely talented musicians and I predict bright futures for all of them.'
Kukkonen studies with Réka Szilvay at the Sibelius Academy Youth Department and has previously won first and second place in the International Arthur Rubinstein Academy Competition for Young Violinists (2013 and 2016).
The concert was livestreamed on Facebook and YouTube, and can be seen here: