The new Covid-19 test delivers results in just over an hour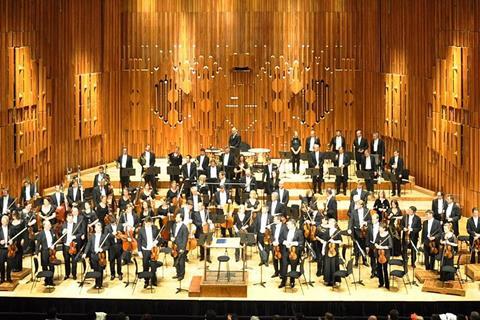 DnaNudge, developer of the new rapid, lab-free CovidNudge test, has announced a partnership with the London Symphony Orchestra, delivering regular COVID-19 testing to its 120 musicians, which will enable the ensemble to make a return to live performance. DnaNudge is performing the testing – which delivers results in just over an hour – exclusively for the LSO as sponsors, to help support the UK arts and cultural sector's safe re-opening and return to work.
The orchestra completed CovidNudge testing prior to beginning its first group rehearsal sessions at LSO St Luke's, held in preparation for the LSO's 2020 BBC Prom concert broadcast live on 30 August 2020. Regular testing will continue for the rest of the year to support the LSO's programme of events announced for the Autumn season.
The London Symphony Orchestra's Music Director Sir Simon Rattle commented: 'Music's ability to connect and inspire people has never been more needed, so it has been so truly wonderful for the orchestra to be able to gather together again – an experience that has been so much missed by our musicians and by our audiences. We are hugely excited about our remarkable upcoming programme, and we are immensely thankful to Professor Toumazou and the entire DnaNudge team for their part in getting this world-class orchestra back where it belongs – sharing the transformative power of incredible music.'
LSO Managing Director Kathryn McDowell CBE added: 'DnaNudge has been absolutely instrumental in our successful return to rehearsals and live performance, and we are thrilled to have been able to relaunch a programme of live performances for our audience. The testing provided so generously by DnaNudge is a key part of our overall safety measures that we have put in place to give our talented musicians, dedicated staff and valued audiences the reassurance and confidence to securely assemble once more. We are enormously grateful to Professor Toumazou and his team for their support, and for enabling us to deliver our programme of extraordinary music to as wide an audience as possible.'
Last month Professor Toumazou and his team received The Royal Academy of Engineering President's Special Award for Pandemic Service in recognition of the DnaNudge team's achievement in developing the CovidNudge RT-PCR (reverse transcription polymerase chain reaction) test, which delivers accurate results in just over an hour, without the need for a laboratory, via both nasal and saliva swab samples.
Read: London Symphony Orchestra moves autumn season to LSO St Luke's

Read: Live music and audience to return to the Barbican
DnaNudge began an initial deployment of the CovidNudge test in eight London hospitals – including cancer wards, A&E and maternity departments. The test is now being rolled out UK-wide by the Department of Health and Social Care in NHS urgent patient care and elective surgery settings, plus out-of-hospital locations.
CovidNudge is also able to test for FluA, FluB and respiratory syncytial virus (RSV) – a crucial capability ahead of the winter flu season.
Commenting on DnaNudge's support for the LSO, Professor Chris Toumazou, CEO and co-founder of DnaNudge and founder of the Institute of Biomedical Engineering at Imperial College London said: 'The UK arts industry across the board has been severely challenged by COVID-19, and it's been a great sadness to so many people to see our much-loved orchestras fall silent as we deal with this unprecedented pandemic. The DnaNudge team was keen to help the LSO – one of this country's greatest cultural institutions – get back to making music again, and we are extremely proud that our CovidNudge test is supporting the return of live orchestral music that provides so much joy to people from all walks of life, all around the world.'
For more information about the CovidNudge test, please visit: https://www.dnanudge.com/en/COVID-Nudge