Event in Toruń, Poland, hands out €50,000 in cash prizes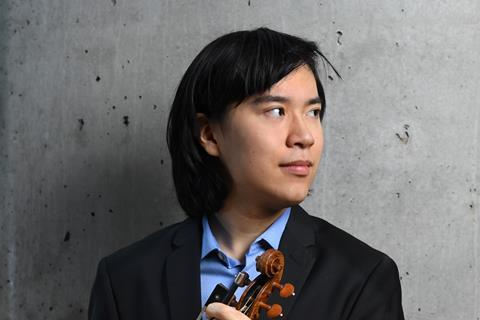 Elias David Moncado has won the €20,000 top prize at the 5th International Karol Lipiński Violin Competition in Toruń, Poland, with his performance of Bartók's Violin Concerto No. 2.
The finals took place with the Toruń Symphony Orchestra conducted by the competition's artistic director Mariusz Smolij.
Second prize and €15,000 went to Robert Łaguniak from Poland and third (€10,000) to Yumiko Yumiba from Japan.
The other three finalists, Eimi Wakui (Japan), Mao Konishi (Japan) and Maya Levy (Belgium), each win €2,000.
The jury comprised Ilya Kaler (chair), Konstanty Andrzej Kulka, Boris Kuschnir, Itzhak Rashkovsky. Jakub Jakowicz and Mariusz Smolij.
Elias David Moncado biography as provided by the competition:
Elias David Moncado was born in 2000, of German/Spanish and Malaysian descent. He started playing the violin at the age of four. Since January 2016, he has been a junior student of the Interlaken Classics Akademie in Switzerland under Professor Zakhar Bron.
He is currently a student of Professor Pierre Amoyal in Mozarteum Salzburg. He has been the laureate of several national and international competitions such as Hindemith Competition Berlin (2nd prize), Concours FLAME Paris (1st Grand Prize with the highest marks), Young Paganini Legnica/Poland (1st prize, Special Prize for the best Paganini performance, Special Prize for the best individuality), Telemann Competition in Poznan/Poland (2nd prize), the International Knopf Competition in Düsseldorf (Eugene Ysaÿe Prize), Lions Competition Germany (1st prize), Concours International de Musique de l'Orchestre Philharmonique du Maroc (2nd Prize, Audience Prize, Orchestra Prize, Special Prize of the Animato Association, Special Prize of Printemps Musical des Alizés Casablanca) and Andrea Postacchini Competition Fermo/Italy (2nd prize and 2 special prizes).
He has performed with numerous orchestras such as Freiburg Philharmonic Orchestra, Penang Symphony Orchestra (Malaysia), Smetana Philharmonic Orchestra (Prague), German Chamber Orchestra (Berlin), Bavarian Broadcasting Symphony Orchestra (Bayerischer Rundfunk), Orchestre Philharmonique du Maroc. He has collaborated with a number conductors including Wolfgang Trommer, Hans Richter, Zvi Carmeli, Fabrice Bollon, Wojciech Rajski, Gabriel Adorjan, Olivier Holt, Folko Jungnitsch, Christoph Wyneken and Nicholas Pasquet.
He has made guest appearances at prestigious music festivals such as Classic Festival Bad Ragaz/Switzerland, Mecklenburg-Vorpommern Music Festival, Kissinger Music Summer, Crescendo Festival Berlin, Schleswig-Holstein Music Festival, Teatro Ristori and Printemps Musical des Alizés/Morocco. Currently, he is the Primarius of his own string quartet.
As a prize winner of the Deutsche Stiftung Musikleben he plays a violin by Giambattista Rogeri/Brescia (around 1700).