The fund has chosen 23 new recipients and renewed 31 loans for promising young musicians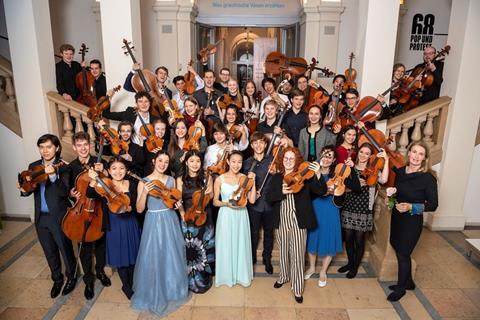 The top string players in Germany met last weekend at the Museum of Arts and Crafts in Hamburg to audition for the chance of an instrument loan from the German Musical Instrument Fund. The fund, administered by Deutsche Stiftung Musikleben in partnership with the German government, holds 225 instruments in total.
Existing recipients re-auditioned to extend their loans, and new applicants played for a first chance to play an instrument of serious quality.
The instruments handed out include examples by Stradivari, Guadagnini, Storioni, Testore and Vuillaume. The audition panel comprised Stephan Picard, Heime Müller, Hans Joachim Greiner, Peter Bruns and Troels Svane. Those invited to audition have already distinguished themselves in national or international competitions, and some of the older recipients are hold concertmaster positions.
The youngest newcomer was Leonard Toschev (13) from Leipzig who was awarded a violin by Enrico Ceruti, Cremona 1845. Strad readers may be familiar with a number of the recipients from recent competition success, such as Leonard Fu who gets a c.1680 Stradivari; Cosima Soulez Larivière who gets a 1675 Grancino; Sumina Studer who picked up a 1731 Camillo Camilli; and Tertis Competition winning violist Ziyu Shen who gets a Testore instrument.
Among the renewed loans are Jiyoon Lee who keeps her Landolfi; Fedor Rudin who keeps his Storioni; Ioana Cristina Goicea who keeps her Guadagnini; and Marcel Johannes Kits who keeps his Rugeri.
'It is a great pleasure to be able to support these young people, many of whom are already world class, thanks to a large number of dedicated donors and sponsors,'
said Irene Schulte-Hillen, founder of the German Musical Instrument Fund and president of the Deutsche Stiftung Musikleben for over 25 years.
The full list of recipients is below:
New loans
VIOLIN
Jakow Pavlenko (Lorenzo Storioni 1774)
Leonard Toschev (Enrico Ceruti 1845)
Elias David Moncado (Giovanni Battista Rogeri)
Leonard Fu (Antonio Stradivari 1680)
Sumina Studer (Camillo Camilli 1731)
Eva Zavaro (Matteo Goffriller 1715-1720)
Benjamin Günst (Andrea Guarneri 1663)
Cosima Soulez Larivière (Giovanni Grancino 1675)
Maria Wehrmeyer (Carlo Ferdinando Landolfi 1750-1775)
Johannes Ascher (Jean Baptiste Vuillaume)
Mira Marie Foron (Carlo Giuseppe Testore 1710)
Valerie Schweighofer (Stefano Scarampella 1905)
Alican Süner (Carlo Giuseppe Testore c.1700)
Lir Vaginsky (Enrico Rocca c.1900)
Fanny Fheodoroff (Marinus Capicchioni 1962)
Pauline Hoffmann (Philipp Augustin 2018)
Anatol Toth (Haiko Seifert 2018)
VIOLA
Ziyu Shen (Paolo Antonio Testore 1740)
Lina-Marie Däunert (Urs W. Mächler 2018)
CELLO
Ivan Karizna (Jean Baptiste Vuillaume 1845)
Dorukhan Doruk (Paolo Antonio Testore 1750)
Yibai Chen (Giuseppe Guadagnini, c.1780-1800)
Hayoung Choi (Stefano Scarampella 1910)
Philipp Schupelius (labelled Giuseppe Gagliano 1720)
Raphael Zinner (Niccolo Bianchi 1871)
Till Schuler (Georges Chanot 1840)
Mon-Puo Lee (Stephan von Baehr 2012)
Paul Böhme (Honoré Derazey)
Samuel Weilacher (labelled Giuseppe Antonio Antonio Rocca)
Wassily Gerassimez (Haat-Hedlef Uilderks 2018)
Anna Olivia Amaya Farias (Enrico Marchetti 1900)
Renewed loans
VIOLIN
María Dueñas (Nicolaus Gagliano 17?4)
Jiyoon Lee (Carlo Ferdinando Landolfi 1760-1770)
Angelo de Leo (Giovanni Franceso Pressenda 1829)
Fedor Rudin (Lorenzo Storioni 1779)
Clara Shen (Carlo Antonio Testore 1740)
Won-Ho Kim (Nicolò Gagliano 1769)
Dorothea Stepp (Carlo Tononi 1727)
Ioana Cristina Goicea (Giovanni Baptista Guadagnini 1761)
Qingzhu Weng (Joseph Gaglianol 1785)
Ludwig Balser (Gand & Bernadel 1887 )
Anny Chen (Pietro Guarneri 1730)
Lewin Creuz (Giovanni Pistucci 1900)
VIOLA
Karolina Errera (Haiko Seifert 2010)
Franziska Hügel (Bernard Simon Fendt 1820)
CELLO
Marcel Johannes Kits (Francesco Ruggeri 1674)
Katarina Schmidt (labelled Giuseppe Guarneri Filius Andreae)
Gayane Khachatryan (school of Jacques Boquay 1700)
Christoph Heesch (Domenico Montagnana)
Anouchka Hack (Bartolomeo Tassini 1769)
Bobby Kostadinov (Michael Stürzenhofecker 2015)
Anna Kalvelage (Marinus Capicchioni 1958)
Simon Tetzlaff (Urs. W. Mächler, Holzhausen 2018)
Marlene Witt (Ersen Aycan 2017)