Quinquennial event taking place across three Finnish cities promotes nine young cellists for semi-finals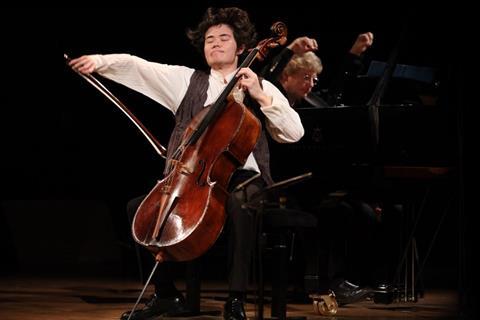 The International Paulo Cello Competition in Finland begins its semi-final rounds today with nine cellists, whittled down from the 25 who played in the first round.
The nine are:
Zlatomir Fung (USA)
Maciej Kulakowski (Poland)
Minji Kim (South Korea)
Ivan Sendetskiy (Russia)
Timotheos Petrin (Greece)
Bryan Cheng (Canada)
Michiaki Ueno (Japan, pictured above)
Leonardo Chiodo (Finland)
Brannon Cho (USA)
In this round the competitors will perform one of the concertos by Elgar, Lalo, Schumann and Tchaikovsky with the Lahti Symphony Orchestra at the Sibelius Hall, Lahti, across the evenings of 19 and 20 October.
A maximum of six will then proceed to the two final rounds, the first featuring them directing the Tapiola Sinfonietta from the soloist's chair in a classical concerto (Haydn or Boccherini), and the second performing a 20th-century concerto with the Helsinki Philharmonic Orchestra.
The competition, which last took place in 2013, offers a top prize of €20.000 plus various other cash prizes. In its previous edition it was won by Kian Soltani.
The jury comprises Arto Noras (chair), Frans Helmerson, Maria Kliegel, Laurence Lesser, Ivan Monighetti, Philippe Muller, Li-Wei Qin, Martti Rousi, and Tsuyoshi Tsutsumi.