After a two year hiatus, the competition kicks off this week with 17 international competitors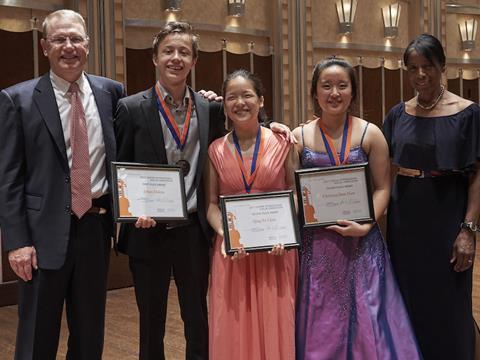 17 young violinists between the ages of 13 and 18 will compete this week for the top prize of $20,000 at the the Thomas and Evon Cooper International Competition. Held from 15 August until 19 August, the competition will take place at Warner Concert Hall, Oberlin College and Conservatory.
The cash prize pool is worth $40,000. The competition's champion will win a two-year partnership with MKI Artists that will include up to 10 concerto or recital engagements throughout the United States. Composer Jeff Scott is creating a new six-minute work for violin and orchestra, granting the winner exclusive rights to its world premiere and two years of performances. Additionally, Jonathan Solars Fine Violins of New York will provide a two-year loan of a rare Italian violin.
The competitors are:
Sameer Agrawal, 17, Chicago, Illinois, United States
Calvin Alexander, 17, Shreveport, Louisiana, United States
Esme Arias-Kim, 16, Hoffman Estates, Illinois, United States
Bianca Ciubancan, 16, Chicago, Illinois, United States
Brandon Du, 18, Ellicott City, Maryland, United States
Maxwell Fairman, 18, Cincinnati, Ohio, United States
Audrey Goodner, 16, Reston, Virginia, United States
Dániel Hodos, 17, Budapest, Hungary
Kento Hong, 16, Edgemont, New York, United States
Seohyun Kim, 13, Seoul, South Korea
John Lee, 17, Vernon Hills, Illinois, United States
John Matters, 18, Bethesda, Maryland, United States
Katelyn Moon, 17, Hackensack, New Jersey, United States
Jonathan Okseniuk, 16, Mesa, Arizona, United States
Bobby Boogyeom Park, 16; resides in Bayside, New York; citizen of South Korea
Anna Stube, 16; resides in Calgary, Canada; citizen of Latvia
Chunyi (Grace) Zhou, 16; resides in Irvine, California; citizen of United Kingdom
The 2022 jury consists of Oberlin violin professor Sibbi Bernhardsson, who also directs the competition. He is joined by an esteemed panel including Danielle Belen from the University of Michigan, Philip Setzer of the Emerson Quartet, and John Zion of MKI Artists.
All events are free and open to the public. The complete competition will be streamed live at www.oberlin.edu/cooper.
Founded in 2010, the Thomas and Evon Cooper International Competition alternates between piano and violin disciplines. Previous violin winners include US violinist Eric Charles Chen in 2019 Swedish violinist Johan Dalene in 2017.
Reference
Sameer Agrawal, 17, Chicago, Illinois, United States
Calvin Alexander, 17, Shreveport, Louisiana, United States
Esme Arias-Kim, 16, Hoffman Estates, Illinois, United States
Bianca Ciubancan, 16, Chicago, Illinois, United States
Brandon Du, 18, Ellicott City, Maryland, United States
Maxwell Fairman, 18, Cincinnati, Ohio, United States
Audrey Goodner, 16, Reston, Virginia, United States
Dániel Hodos, 17, Budapest, Hungary
Kento Hong, 16, Edgemont, New York, United States
Seohyun Kim, 13, Seoul, South Korea
John Lee, 17, Vernon Hills, Illinois, United States
John Matters, 18, Bethesda, Maryland, United States
Katelyn Moon, 17, Hackensack, New Jersey, United States
Jonathan Okseniuk, 16, Mesa, Arizona, United States
Bobby Boogyeom Park, 16; resides in Bayside, New York; citizen of South Korea
Anna Stube, 16; resides in Calgary, Canada; citizen of Latvia
Chunyi (Grace) Zhou, 16; resides in Irvine, California; citizen of United Kingdom