Violinist Gleny Rae is overjoyed to have her instrument back, after thieves stole the violin and her vehicle on the evening of 2 August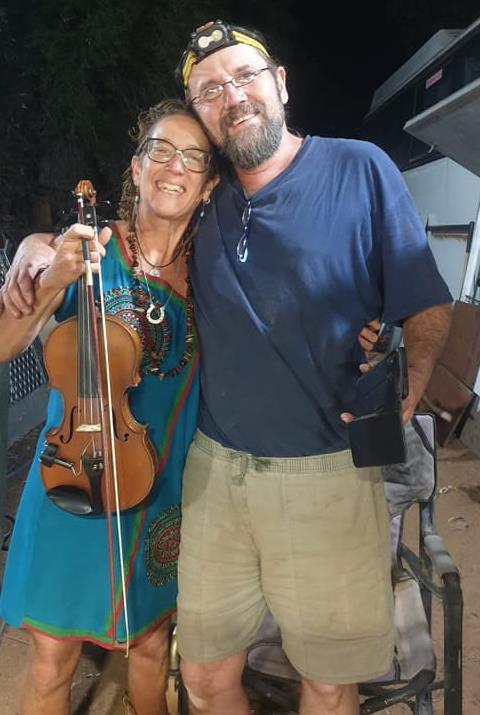 An Australian violinist has recounted her traumatic overnight ordeal of losing her 1935 Roth violin, in a theft in Alice Springs.
Gleny Rae had stopped for a quick meal on the evening of Tuesday 2 August between 6.45PM and 7.30PM. She had left her violin in the backseat of her 1999 Toyota troop carrier during this time.
'When we came out there were three cars with their windows smashed. I was cleaning my friend's car and I was looking at that going "oh no!"' she told ABC News. 'That's the moment when your heart just about leaps out of your mouth and I can see the smashed glass where it was parked,' Rae said as she realised her vehicle and instrument had been stolen.
However, three hours after the theft at 10PM, local resident 'Stu' (as named in Rae's Facebook post) and his sons spotted the stolen vehicle, which was surrounded by three youths. Upon investigation, the youths escaped the scene, leaving the vehicle.
'I saw the photos and items in the troopy and knew it was someone's second home. Then I saw the violin and knew someone would be in a real panic!' said Stu, according to Rae's Facebook post.
Stu contacted the police about the stolen vehicle, and after 28 hours, Alice Springs Police were able to connect the incident to Rae's stolen incident report. Stu had also messaged Rae, which prompted the reunion of possessions with the owner.
The 87-year-old violin has high sentimental value to Rae, which was gifted to her by her mother during her studies at the Sydney Conservatorium High School. Rae works as a choir coordinator at Northern Territory Music School and is the artistic director of the Craic'n'twang Concert Series.
Ernst Heinrich Roth I (1877 – 1948) was a prolific violin and bow maker of the Markneukirchen workshops. The firm used at least 14 different models, including reproductions of classical Cremonese masterpieces by Stradivari and Guarneri. His son Ernst Heinrich Roth II emigrated to the United States in 1921, whereupon the firm struggled from the Second World War and isolation as part of Soviet East Germany. The company there folded and relocated to Bubenreuth in the Western bloc in 1953. As of 2012, the firm continues to produce instruments under the management of Ernst Heinrich Roth II and Wilhelm Roth.