Enrico Tedde's 19th-century violin was found by chance having been missing since November 2021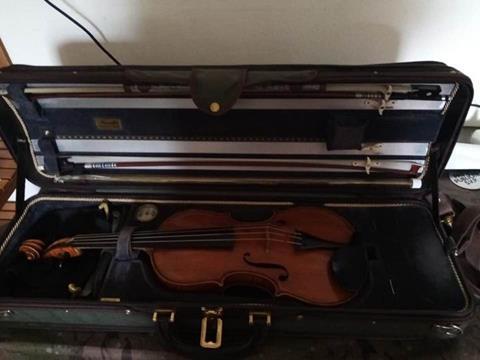 Almost four months had passed since Enrico Tedde's 1899 Giulio Degani violin was stolen on a train between Poitiers and Paris.
On tour with the Orchester des Champs-Elysées, of which Tedde is a member, the violin suddenly went missing. 'I didn't understand what happened. I got up, and it was no longer there,' Tedde told Le Parisien.
In March, a woman passing by spotted the violin next to a trash can in Porte de Clignancourt, Paris. She waited a short time to see if the violin belonged to anyone, then took it home when it was unclaimed.
Inside the case was Tedde's violin, along with two bows, sheet music, and Tedde's passport, which the woman used to track him down. After reuniting with his precious instrument, Tedde said the violin was slightly dirty and the bridge had moved, but otherwise in a fine condition.
'Finally after three and a half months, [it] came home just like I left [it]… a miracle!' posted an overjoyed Tedde on social media.
The Venetian luthier Giulio Degani (1875 – 1959) worked with his father Eugenio from an early age. Upon his father's death in 1901, he took over the family workshop until 1915, when he emigrated to the US to work for Wurlitzer. He worked independently in the 20th century in Atlantic City and Cinncinati, and supplemented his income by working part-time in factories and as a violin teacher. He retired in 1952.