The priceless instrument, missing for three years, was discovered by police conducting a different investigation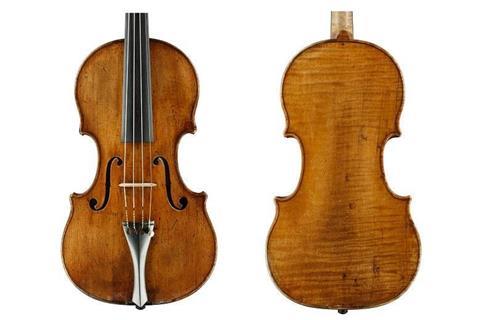 Berlin police have recovered a 1769 Nicolò Gagliano violin that had been stolen from the city's Hochschule für Musik Hanns Eisler in March 2019. While the instrument has an estimated value of at least €275,000, the thief had sold it on for just €200.
According to the Berlin public prosecutor's office, the police were investigating four men aged between 22 and 33 regarding a case of grievous bodily harm. These included both the thief and the buyer. On 20 May around 80 officers searched four locations in the city, and found the violin at an apartment belonging to the buyer's mother. The 77-year-old is now also being investigated, while the thief has already been convicted.
Also as a result of the search, the police seized three kilograms of drugs, probably heroin, as well as knives, clubs and a device for manipulating car milometers. The alleged owner, aged 23, has been arrested.
Nicolò Gagliano (c.1710–1785) was one of the key figures in the Neapolitan school of violin making. The son of Alessandro, he worked with his brother Gennaro and son Giuseppe to make instruments, generally on Stradivari models and sometimes Amati. In October 2019 a c.1770 violin by Nicolò Gagliano sold at Ingles & Hayday, London, for £192,000.