Violinists and Curtis-alumni Benjamin Beilman and Erin Keefe will begin their new roles for the 2022-23 academic year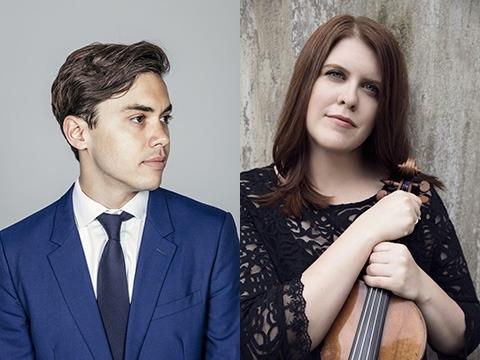 Violinists Benjamin Beilman and Erin Keefe will join the violin faculty at the Curtis Institute of Music. Both are graduates of the school (2012 and 2003, respectively) and will begin teaching at Curtis in autumn 2022.
Keefe and Beilman will teach students individually as well as hold chamber and orchestral coachings. They join a renowned roster of performers, pedagogues, and artist-citizens teaching at Curtis, including Ida Kavafian, with whom they both studied.
'It would be difficult to overstate my joy and pride at this announcement,' says Kavafian. 'Erin and Ben are not only my former students, they check every box: incredible musicianship, integrity, stellar violin playing, musical knowledge, and continuity of the great Curtis violin tradition. They are only three generations away from the great teaching of Leopold Auer, with just my teacher Oscar Shumsky and myself between them. I am thrilled for the future of Curtis.'
Keefe serves as the concertmaster of the Minnesota Orchestra and has been a frequent artist with the Chamber Music Society of Lincoln Center since 2005. She has won numerous international competitions and awards, including an Avery Fisher Career Grant, and frequently appears as a soloist and in recital throughout the US, Europe and Asia.
She says, 'I feel extremely honoured and humbled to be joining the violin faculty at the Curtis Institute. My five years studying at Curtis provided me with some of the most formative experiences of my musical life, and I am looking forward to passing on all that I have learned from my incredible colleagues and mentors to the next generation of musicians.'

Mr. Beilman is an in-demand international soloist, having performed in recent years with many major orchestras worldwide including the Chicago Symphony Orchestra, the Philadelphia Orchestra, and the Rotterdam and London Philharmonics.
'I am deeply honoured to join the faculty of the Curtis Institute of Music, says Beilman. 'My teachers at Curtis have always provided unwavering support and guidance as I embarked on a performance career in an ever-evolving landscape. I'm excited to take on this same role for the next generation of musicians as they carve their own path and bring new voices to our art form.'