The multi-prize winning American musician premieres a new work by Edmund Finnis in London in December 2015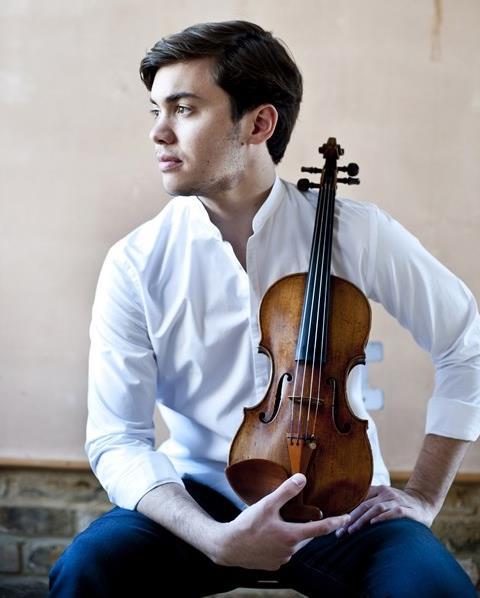 Premieres are strange events for musicians. On the one hand, a premiere is often the least nerve-wracking performance type, and on the other hand, it can be extremely challenging!
My first experience premiering a work was eight years ago - I worked closely with my friend, composer Chris Rogerson while we were both students at the Curtis Institute of Music in Philadelphia. Curtis does a good job of integrating groups that usually have few points of overlap - instrumentalists, composers, vocalists, and conductors – so collaborating to create a new work felt like an extension of our friendship. As performers and audience members, we often focus on the geniuses of composition - Beethoven, Mozart, etc – but forget that these composers relied on their contemporaries for support, inspiration, and advice. Working with Chris one-on-one provided a new perspective on how works evolve.
During a premiere performance, the audience is generally focused on the structure, character, and meaning of the work. In many ways, a world premiere is the purest way to experience music. The downside – for the performer at least – is that you can't use recordings and performances to get a head start on understanding a work; you only have the blueprints and a rough idea of what the finished product should sound like. It's great to have a direct line to the source of a new piece, though - if you have any questions you can Skype or email the composer to get the definitive answer!
The piece I'm premiering on December 10 - Shades Lengthen – is by British composer Edmund Finnis. Edmund lives in London and I live in Philadelphia so we've only met up in person a handful of times. Edmund has been great about sending me drafts and updates throughout the writing process, without spoon-feeding me all of the information. It's important for me, as the performer, to have a period of isolation to form my own interpretation and impressions of the piece.
Edmund explained to me that, 'I have been thinking of the relationship between the soloist and the group in spatial terms: it is often akin to the shifting correspondence between an object (solo line) and its shadows (ensemble). Clear, readily perceivable lines voiced by the violin are variously silhouetted, doubled, imitated and elongated by the other instruments.'
The piece has been commissioned by London Music Masters (LMM), a great organisation that is working to improve classical music education, not just in a small subsection of the field but across the entire spectrum. Hugh Brunt, Robert Ames and the London Contemporary Orchestra have devised a programme with Finnis around Shades Lengthen, including chants from the Evensong liturgy and other contemporary works from composers such as Saariaho, Pärt and Cage with the theme of twilight and the onset of night. The church setting – St John-at-Hackney - will add to the sense of awe, mystery and wonderment.
LMM Award Holder Benjamin Beilman and the London Contemporary Orchestra will perform the world premiere of London Music Masters commission Shades Lengthen (supported by the Boltini Trust and Arts Council England) by Edmund Finnis, at 8pm on 10 December 2015 at St John at Hackney Church, London. Full details at www.lcorchestra.co.uk/upcoming-events/
Photo: Giorgia Bertazzi