The ninth Trondheim International Chamber Music Competition, running alongside the Chamber Music Festival in Trondheim, Norway, was won by the Scotland-based Maxwell Quartet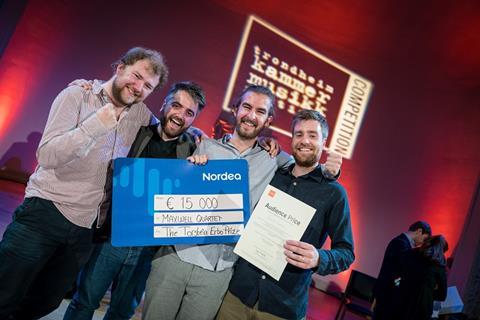 The final of the ninth Trondheim International Chamber Music Competition, held on 30 September in the Freemasons Hall in Trondheim, Norway, concluded with the Maxwell Quartet as winners of both the jury and audience prizes.
The Scottish-based quartet wins €15,000 as well as engagements at next year's Trondheim Chamber Music Festival.
The Omer Quartet (US) came second and won €10,000, and third prize was awarded jointly to the Esmé Quartet (Germany/Korea) and Simply Quartet (China/Norway) who share €5,000.
Jury chair Levon Chilingirian noted and overall high level of quality in the competing quartets.
In the final, the Maxwell Quartet played Beethoven's no.12 op.127 quartet, while the other three ensembles chose no.8 (op.59, no.2). The Strad editor Chloe Cutts, present at the final, noted that the later quartet is 'stranger and more difficult to play and listen to'.
'Hats off to them for tackling the trickier and less accessible piece. They weren't going for the overly polished performance, but went for storytelling and took some risks, and there was great communication between them without any one of them dominating.'
After its win, the quartet commented: 'We have spent so much time playing this piece, it's under our skin. It has everything in it – it's a complete masterpiece. We wanted to do a late Beethoven, and this piece requires such beauty of sound, which is something we're working on at the moment.'
The Maxwell Quartet comprises Colin Scobie (first violin) and Elliot Perks (viola), who met studying at the Royal College of Music, London, and George Smith (second violin) and Duncan Strachan (cello) who were at the Royal Conservatoire of Scotland.
The quartet's upcoming season includes works by Tchaikovsky and Schumann, as well as a project playing new quartets by Scottish composers.
The Maxwell Quartet perform Brahms's quartet op.51 no.1 during the Trondheim International Chamber Music Competition: