Starting in two weeks, the New Zealand event with NZ$40,000 top prize has invited 16 violinists to its live rounds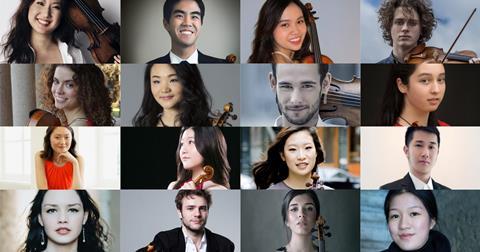 The Michael Hill International Violin Competition begins in Queenstown, New Zealand, on 31 May before transferring to Auckland for its semi-final and final rounds, ending on 8 June.
The competition offers its winner NZ$40,000 (c. US$26,000) plus a recording contract with the Atoll label, performances in New Zealand and Australia, and a professional development programme.
The competition, in collaboration with the New York based Rare Violins Consortium, will also administer the 'Arancio Prize' to one of its top six candidates, which consists of a two-year loan of the 1645 Nicolò Amati violin formerly played by Christian Ferras.
The competitors are:
Jacqueline Audas (USA)
Rimma Benyumova (Russia)
Jevgēnijs Čepoveckis (Latvia)
Angela Sin Ying Chan (China)
Hannah Cho (USA)
Mairéad Hickey (Ireland)
Emmalena Huning (Australia)
Do Gyung (Anna) Im (South Korea)
Tianyu Liu (China)
Ashley Jeehyun Park (USA)
Eric Tsai (USA)
Sophie Wang (Taiwan)
Harry Ward (Australia)
Matthias Well (Germany)
Victoria Wong (Australia)
Choi Tung Yeung (Hong Kong)
The competition's previous edition in 2017 was won by Romanian violinist Ioana Cristina Goicea.